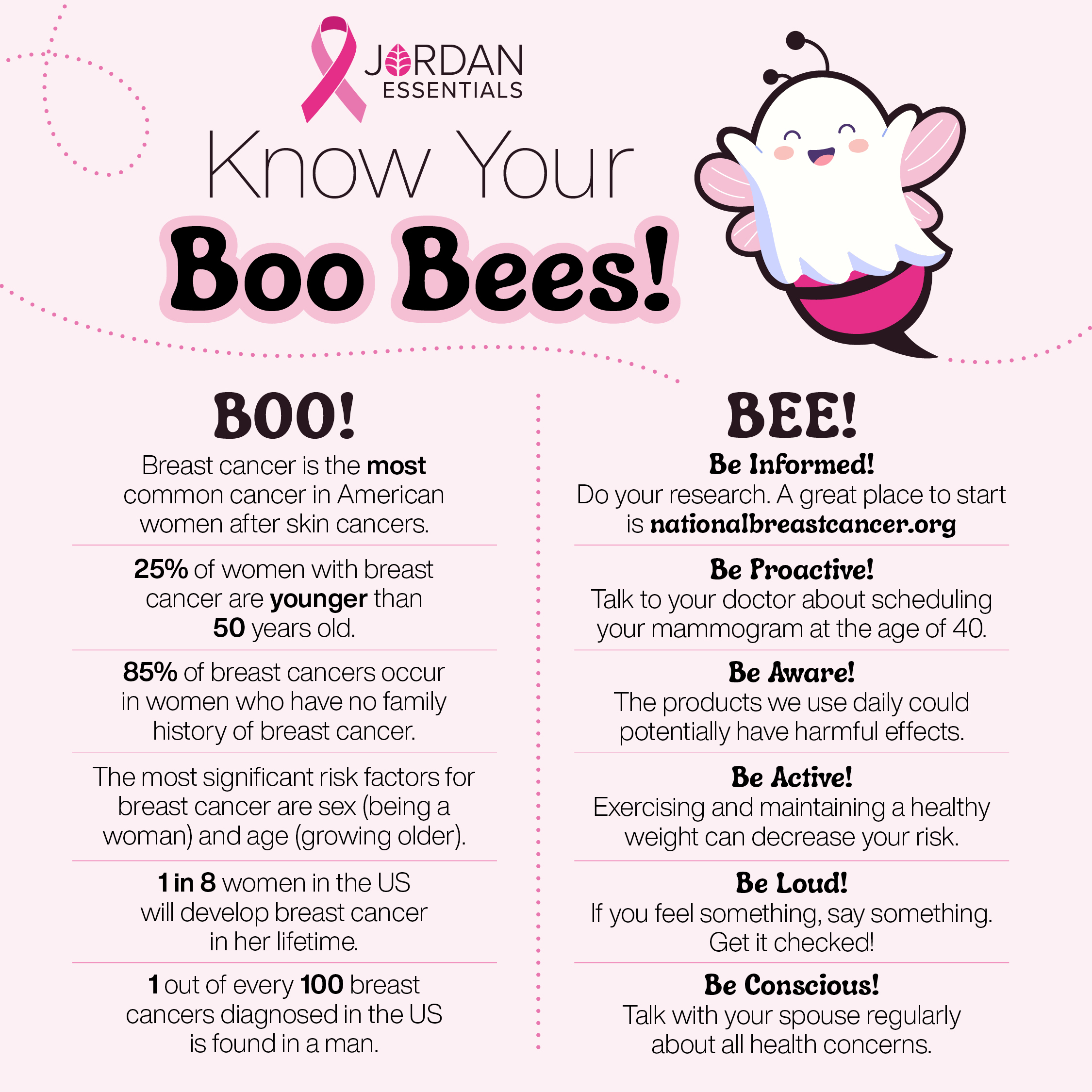 Boooo…the facts about breast cancer are not fun. The topic hits close to home for many of us. When we stop for a moment and look around, we see our loved ones—our best friends, sisters, mothers, grandmothers, aunts, daughters, and even our daughters' friends. The statistics are sobering, with one in eight women in the United States projected to develop breast cancer in her lifetime. Breast cancer is personal, and it's time to get personal about it.
During October, a month dedicated to breast cancer awareness, we encourage you to get to know your "Boo Bees." Knowing the Booo not-so-fun facts about Breast Cancer can help us Bee active in taking preventative steps
One of the first steps towards breast cancer prevention is being informed about what you put both into and onto your body. While we all understand the importance of maintaining a healthy diet for overall well-being, it's equally crucial to scrutinize the products we apply to our skin daily. One simple switch you can make this month is to eliminate harmful ingredients from your daily deodorant routine.
Numerous studies have revealed that certain ingredients like aluminum, parabens, and sulfates may pose risks in the deodorants and antiperspirants we use.
Aluminum, commonly found in many popular deodorants and antiperspirants, works by clogging pores to block sweat, along with the associated odor. However, this unnatural process interrupts the body's natural ability to sweat and detoxify.
Parabens, included as preservatives, are effective at preventing fungal and bacterial growth in products. Unfortunately, they've also been known to mimic estrogen in the body's cells.
Sulfates, salts used to remove oil and dirt while reducing moisture, can cause skin irritation and allergic reactions due to their drying properties.
The concerning aspect of these ingredients is that they can be absorbed through the skin, potentially increasing health risks, including kidney and liver issues, Alzheimer's disease, and breast cancer in both men and women.
Jordan Essentials' deodorants offer a solution by freeing you from these toxins and allowing your body to function as it should—without the unpleasant odor. Our deodorants utilize plant-based science to effectively control odor, minimize wetness, leave your skin smelling clean and fresh, and apply smoothly.
When transitioning to a natural deodorant, you may need to detoxify your underarms for the best results:
Start by cleansing your underarms with our Activated Charcoal Bar Soap, which helps draw out impurities.
Fight odor-causing bacteria by spritzing your pits with our powerful essential oil blend, "Spritz Your Pits." Allow it to dry thoroughly.
Apply just a few swipes of Jordan Essentials' Deodorant in your preferred scent. A little goes a long way.
Breast cancer awareness starts with knowing your "Boo Bees" and taking proactive steps to reduce your risk. By choosing natural, toxin-free products like Jordan Essentials' deodorants, you're not only protecting yourself but also supporting your body's natural functions. Empower yourself and your loved ones with knowledge and action this October and beyond.
During the month of October, Jordan Essentials is committed to doing our part. A portion of the proceeds from every purchase of our Black Raspberry Vanilla Deodorant will be used to gift pampering products to women in our Jordan Community who are battling all types of cancer now or who underwent treatment in 2023.
 Help us make in a difference this October.