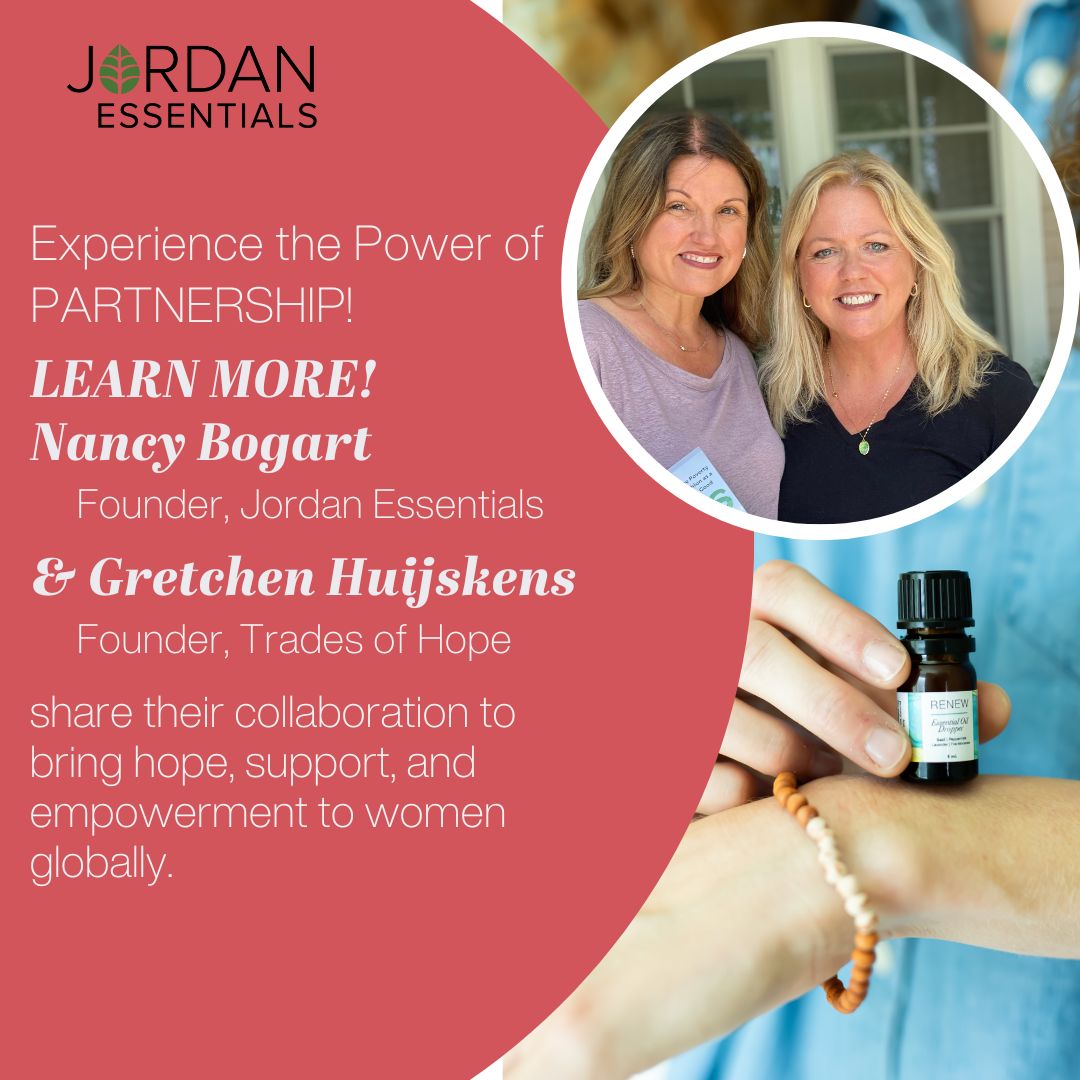 In an impromptu and heartfelt conversation between two long-time friends, Nancy Bogart and Gretchen Huijskens, the collaboration project between their companies, Jordan Essentials and Trades of Hope, was born. With their shared passion for empowering women both locally and globally, these two direct sales company founders have come together to create something beautiful and impactful. Discover details of their exciting collaboration project, "Renewed Hope," just in time for the holiday season.
Nancy, Founder of Jordan Essentials, and Gretchen, Founder of Trades of Hope, friendship spans over a decade and quickly solidified as they shared similar goals and values. Their two companies are based on the same business model of direct sales which allows individuals the opportunity to sell products and make an income. Both are super passionate about helping women here at home and around the world. Both are adoptive parents of kids from foreign countries, and this shared experience brought them even closer. Both are committed to making a positive impact in their communities and for women.
Jordan Essentials is all about bringing joy to the world through body care and wellness products powered by beneficial Magnesium simple essential oils and natural botanicals. Nestled in the heartland of America, they meticulously pick out ingredients and craft them with care to make sure their products deliver on the promise of being safe, non-toxic, and providing results. They also proudly employ individuals with special needs, valuing their vital role in both creating these products and filling orders.
Trades of Hope creates opportunities for women in improvised regions of the world to use their skills to create products such as jewerly, handbags, and accessories. Every purchase supports a woman leading her family out of poverty. The company is committed to Fair Trade, a set of principles designed to ensure that products are produced without harming individuals or the environment, paying fair wages, creating safe work environments, with no child labor, and with transparency of funds. The goal is to lift people up!
"Renewed Hope" is the collaboration project where Jordan Essentials and Trades of Hope have joined forces to make an impact in the lives of women here in the USA and globally. The result…the
Renewed Hope Bracelet Set
. The set includes a terracotta beaded bracelet, lovingly crafted by women in Haiti transitioning from impoverished situations, and the Renew Essential Oil Blend designed to promote relaxation and stress relief. You can apply just a few drops of this blend directly onto the beads. The terracotta absorbs the oils creating a diffusor of this special blend that goes everywhere you do.
Nancy and Gretchen's collaboration doesn't stop with the products. In October, Jordan Essentials is contributing a portion of the proceeds to gift pampering products to women in their consultant community who are battling cancer now or who underwent treatment in 2023. Trades of Hope is contributing to an emergency women's health fund in Haiti, creating a significant impact on women's lives worldwide.
The collaboration between Jordan Essentials and Trades of Hope represents a powerful union of two direct sales companies with a shared commitment to making a difference in the world. Through the "Renewed Hope" project, these companies are not only offering beautiful products but also fostering positive change by supporting women and their communities. As you embark on your holiday shopping journey, consider the impact your purchases can have and support these meaningful initiatives that empower women globally.