Natural Bug Spray? Does it work?
Do Natural Insect Repellents Really Work?
It's that time of year when the days get longer, the sun shines brighter, and the flowers are in bloom.
Hello, Summer! Oh, how we've missed you!
Kids everywhere are dying to get outside and celebrate. After-school days are filled with play dates on the playground, picnics in the park, and patio dinners with friends. I don't know about you, but I'm sensitive to putting anything toxic around my family, so DEET-filled—DEET, in case you were wondering, is a key, stinky ingredient of many popular bug sprays on the market and its safety is questionable to say the least—bug spray is most certainly off of my shopping list of summer essentials. There is a new choice available – JE Bug Away Spray!
It contains no harmful ingredients, and it naturally repels pests using holistic ingredients like Oil of Lemon Eucalyptus and Peppermint Essential Oil. Oil of Lemon Eucalyptus—not to be confused with Lemon or Eucalyptus Essential Oils—comes from the leaves of a specific species of the eucalyptus tree. Crazy but it works!
I know what you're thinking: "That sounds great, but does a chemical-free bug spray that actually works REALLY exist?"
I'm here to tell you: It sure does!
Unlike DEET, there is ZERO evidence that Oil of Lemon Eucalyptus is harmful. Not only is it a powerful and effective tool for repelling pests like mosquitoes and ticks, it is also potentially helpful with muscle spasms, joint pain, and sinus issues, as well as having anti-fungal properties. Peppermint Essential Oil is also effective at repelling spiders and rodents! Plus, peppermint has soothing and cooling properties.
And best of all; it smells amazing!
Jordan Essentials Bug Away Spray can be applied directly to skin, clothes, and pets (with the exception of our beloved feline friends, no kitties) and can be used around your home, and it can be safely used on children three years and up. For younger kiddos, apply it to their strollers, carriers, or surroundings to keep them protected without applying it directly to their skin.
It makes me feel good to have a safe, natural alternatives like this for my family. If you're like me and want to take a more natural approach to your bug spray, connect with your JE consultant today about ordering this summer must-have.
Jordan Essentials Bug Away Spray is DEET free! Jordan Essentials does not claim to diagnose, prevent, treat, or cure anything. Information provided for educational and entertainment purposes only. Contact your healthcare provider with specific concerns. Not endorsed by the FDA.
One key to a good face care routine is consistency. Using naturally-based, non-toxic products daily will support healthy, more youthful-looking skin. Simplicity to the routine will make it easy to follow on a daily basis.
Jordan Essentials Founder & CEO, Nancy Bogart, is an anti-aging expert! She follows a simple, consistent routine for skincare twice daily to maintain her youthful, glowing complexion.
Nancy's five steps are:
Step 1: Cleansing

Step 2: Exfoliating

Step 3: Masking (Not daily)

Step 4: Toning

Step 5: Moisturizing (& Serums)
Watch Nancy in action with this quick Face Care 101 Tutorial – Click Here
Step 1 – Starting with a clean slate is important. Gently cleansing the skin twice a day is important to remove the toxins we are exposed to daily. Gentle Cleanser Foaming Wash is a safe, effective cleaners for all skin types.
Cleansing before bedtime supports the body's regeneration of new cells and allows them to detoxify naturally. Cleansing when we wake up clears away the "sleepy" cells and reveals a fresh face ready to take on the day.
Step 2 – Exfoliating away the old, dry skin cells doesn't need to be done daily. Exfoliating products contain slightly more abrasive ingredients to buff and polish the skin, promoting a smooth and soft glow.  It can be worked into your routine as your skin needs a freshen up.
Jordan Essentials provides two options.  Choose between JE Gentle Exfoliant with jojoba beads (for all skin types including sensitive skin), or JE Spa Polish with refreshing cucumber and finely crushed walnut shells for normal or oily skin.
Step 3 – A healthy facial mask is your at-home spa treatment! Like exfoliating, masking is not needed daily. Masking supports adding rich nutrients to the skin and removing impurities from clogged pores that daily cleansing can't fully remove.  Masks from Jordan Essentials do not peel away layers of skin! They soften, soothe and support collagen renewal.
Step 4 – Toning can also be Step 2 in a simple daily routine. Toner Mist tightens the pores and hydrates the skin. It is like liquid vitamins for your skin! Light and easily absorbed, Toner Mist can be used throughout the day to freshen, brighten and add moisture to your skin.
For acne control, add 10 drops of Jordan Essentials Tea Tree Essential Oil to a 4-ounce bottle of  Toner Mist.  Tea Tree has antibacterial, antimicrobial, and antiseptic qualities that help combat acne.
Step 5 – The final step of a daily face care routine is to moisturize. Morning or night, moisturizing is needed to keep our skin hydrated. All skin types need hydration to stay looking and feeling healthy, smooth, and vibrant with a youthful glow.
Depending on your skin type, your morning moisturizer may differ from your nightly moisturizer. And moisturizing needs often change with the seasons. Be adaptable but be consistent with using moisturizer twice daily.
Step 5 can be enhanced with serums for the extra boosts to fight aging and to maintain healthy skin. Talk with your Jordan Essentials Consultant for more information on the variety of serums and face care products Jordan Essentials offers or visit us at www.jordanessentials.com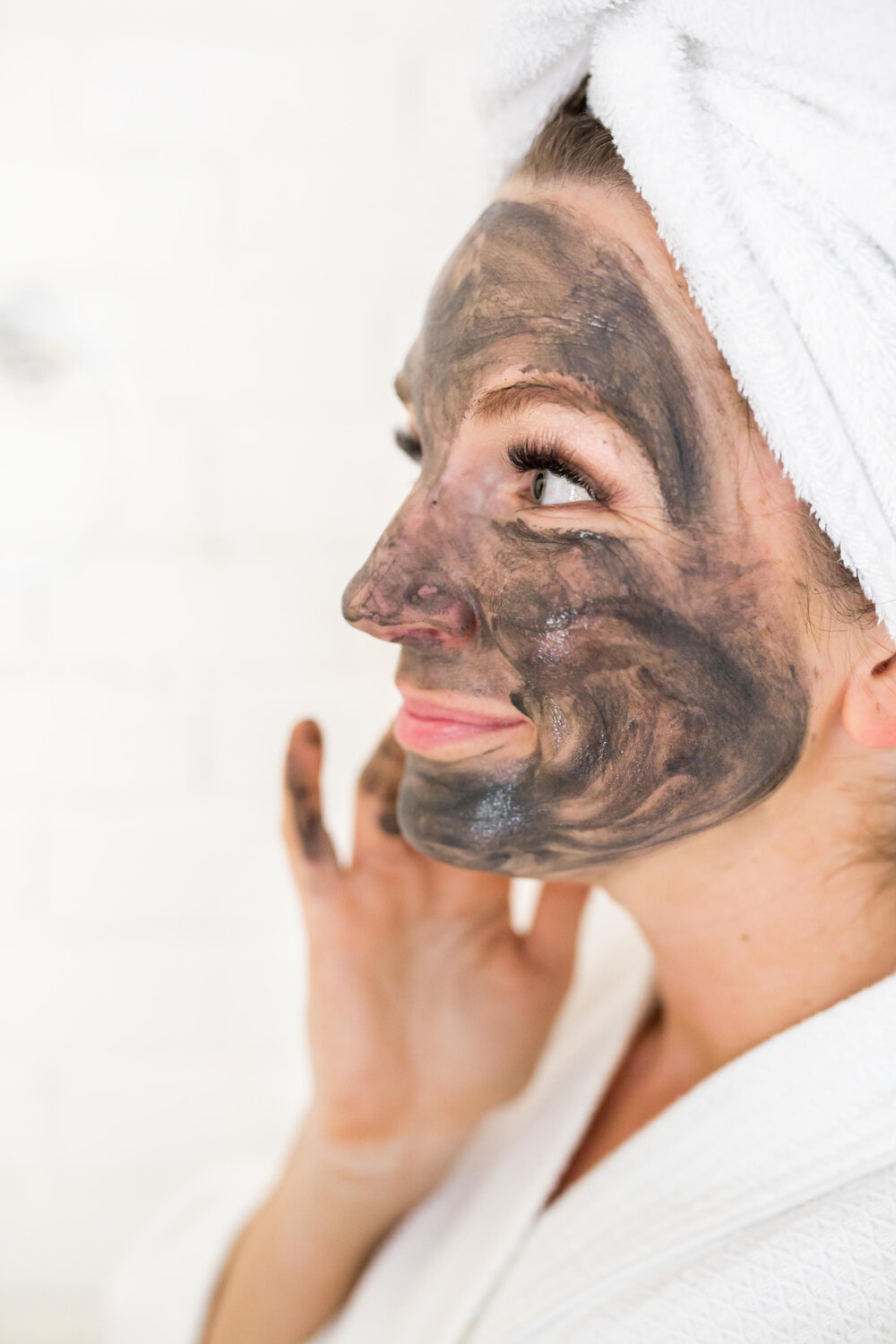 Our faces are a reflection of how we're doing, whether or not we're feeling well, and they tell others whether we've been stressed and not getting enough sleep, or whether we're well-nourished and taking good care of ourselves. Let's be real—we've all been all over the spectrum when it comes to how healthy our faces are.
One of the best and quickest ways to take care of your face is to use a face mask. We especially love our Purifying Charcoal Mask for removing impurities and toxins from the skin's surface as well as deep in pores. It also helps your skin retain its natural moisture as the good stuff soaks in!
This week, reset your skin, reboot your health, and pamper yourself with some much-needed self-care by setting aside some time to indulge in a soothing face mask. Face masks are great because they require you to take a break from your busy life and just enjoy the benefits of skincare.
We recommend cleansing your face first, applying a mask, and then finishing up with a rejuvenating face mist!
Here are 5 ways you can practice self-care this week to heal both your face and your entire being!
1. Purify your skin with charcoal: Our Purifying Charcoal Mask is a fun and effective face mask for ridding your skin of impurities and giving you a deep cleanse. This relaxing ritual will not only refresh your skin health, but it will also give your face a bright, youthful glow. And who doesn't need that midweek?!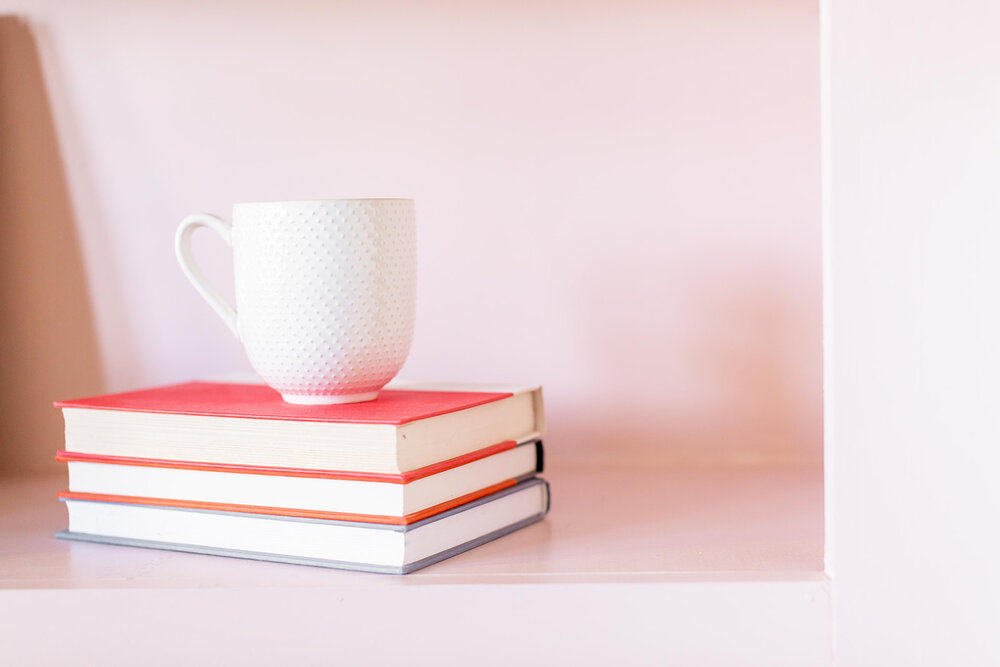 2. Pick up a book: When was the last time you read a book cover to cover? With so many binge-worthy TV shows, it can be hard to set aside time for reading, but giving your eyes and your face a break from the harsh light of a TV or computer screen is great for improving your wellbeing. Instead of turning on the TV, pick out a book that you've been dying to read!
3. Cleanse & detoxify your skin: Use the Detoxifying Clay Mask to give your face a deep cleanse and pull pollutants from your pores. This bentonite clay mask is beneficial for all skin types, and it can even be used as a blemish spot treatment! This means you can truly revive and heal your skin and step into the week with a fresh, radiant face!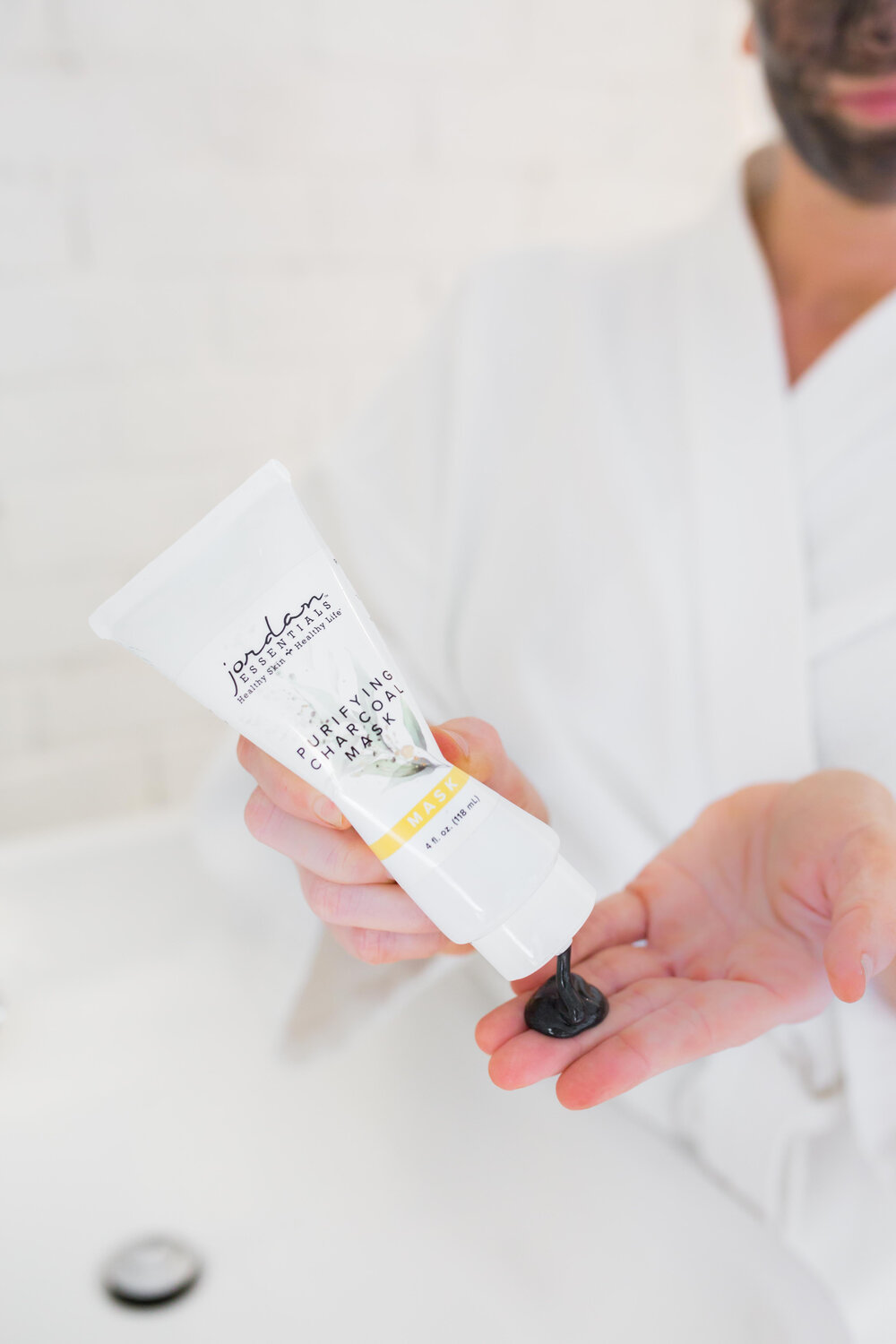 4. Say Om! This week, settle into savasana and take a break from doing anything at all. Whether you practice yoga or meditation, or you prefer to simply stretch and lie down, practice some form of gentle movement and follow it up with stillness in silence. This will do wonders for your mind and your body.
5. Turn up the music: When it comes to self-care, you may hear the same things over and over again, but we've got something new for you to try. Turn up your favorite song and just dance! Grab your loved one …or your furry friend, and get moving. You may feel silly at first, but dancing will invite laughter and will relieve so much stress and tension from your body and your mind.
What self-care practice are you doing this week to boost your wellbeing?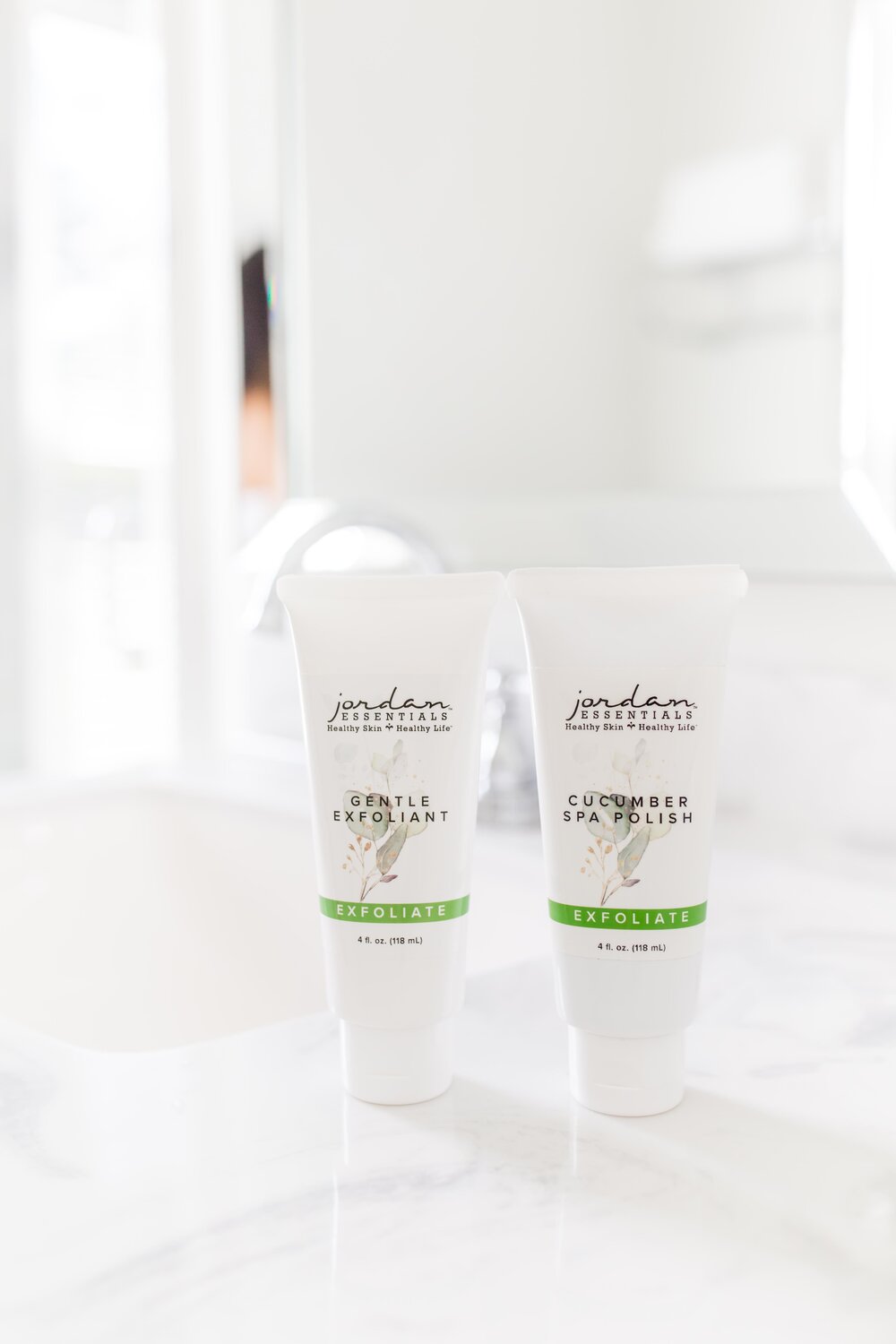 Who wants a fresh face this New Year?! You can't see, but we're raising both hands!
This week's spotlight special is designed to scrub away dead skin cells, leaving you feeling exfoliated and smooth!
This week, our spotlight features the Cucumber Spa Polish and our Gentle Exfoliant. They're both on sale for only $12 each!
Cucumber Spa Polish For The Ultimate Full Body & Face Treatment
The Cucumber Spa Polish has walnut shells which have a natural antimicrobial effect to them. Blackheads and breakouts will get a full treatment with weekly use of the spa polish. Go double duty, and use the product all over your body for a body polish after a long day.
Gentle Exfoliant For A Soft, Polished Pampering
Want and need a more gentle exfoliant? Jojoba beads are the answer! Our Gentle Exfoliant is perfect for a soft, polished pampering. While the exfoliant is primarily used on the face, you can also use this exfoliant on your hands and cuticles for a soft scrub massage. However you choose to use this product, just add a little water and massage gently for better circulation and to remove dead skin cells.
With all this talk about polishing and exfoliating the skin, we figured what better time than now to share some of our favorite skincare tips for a fresh face for the New Year!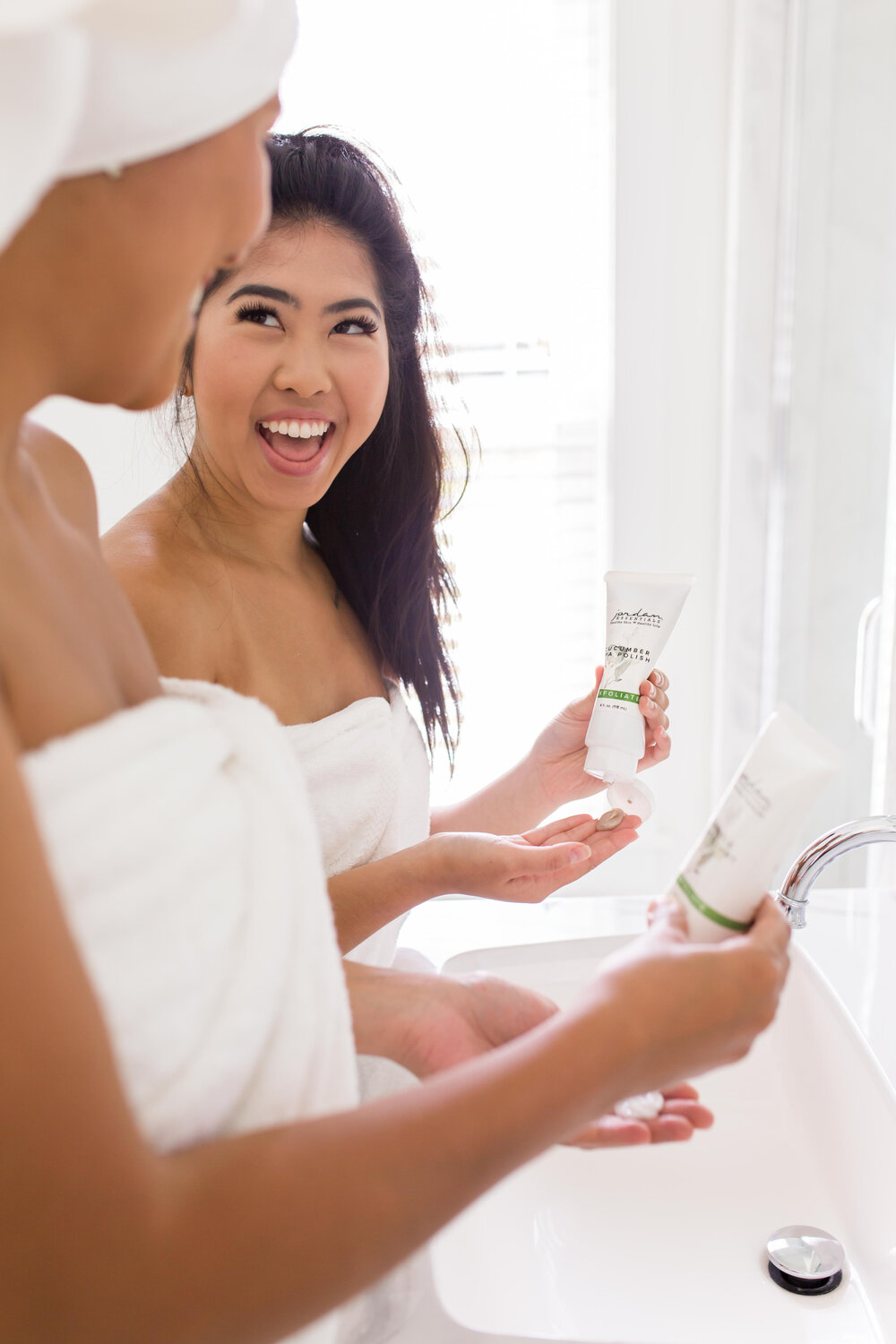 4 Skincare Questions Answered For A Fresh Face
Here are 4 of our favorite skincare tips to get a fresh face.
How often should you wash your face?
Cleanse your face twice a day. First, when you wake up, and second, before you go to bed. You may wonder why you need to wash your face in the morning when in the evening you're washing makeup off, but our faces accumulate sweat and oil overnight. It's just as important to wash your face in the morning as it is at night. Try our Gentle Foaming Cleanser!
What should your step-by-step skincare routine look like?
1. Cleanse your face twice daily with your gentle cleanser, warm water, and either your clean hands or try our Facial Brush. Work into a lather, taking your time, and then rinse well.
2. Once a week, exfoliate and/or polish after you wash your face. This process will renew the circulation in your face and slough off dead skin cells.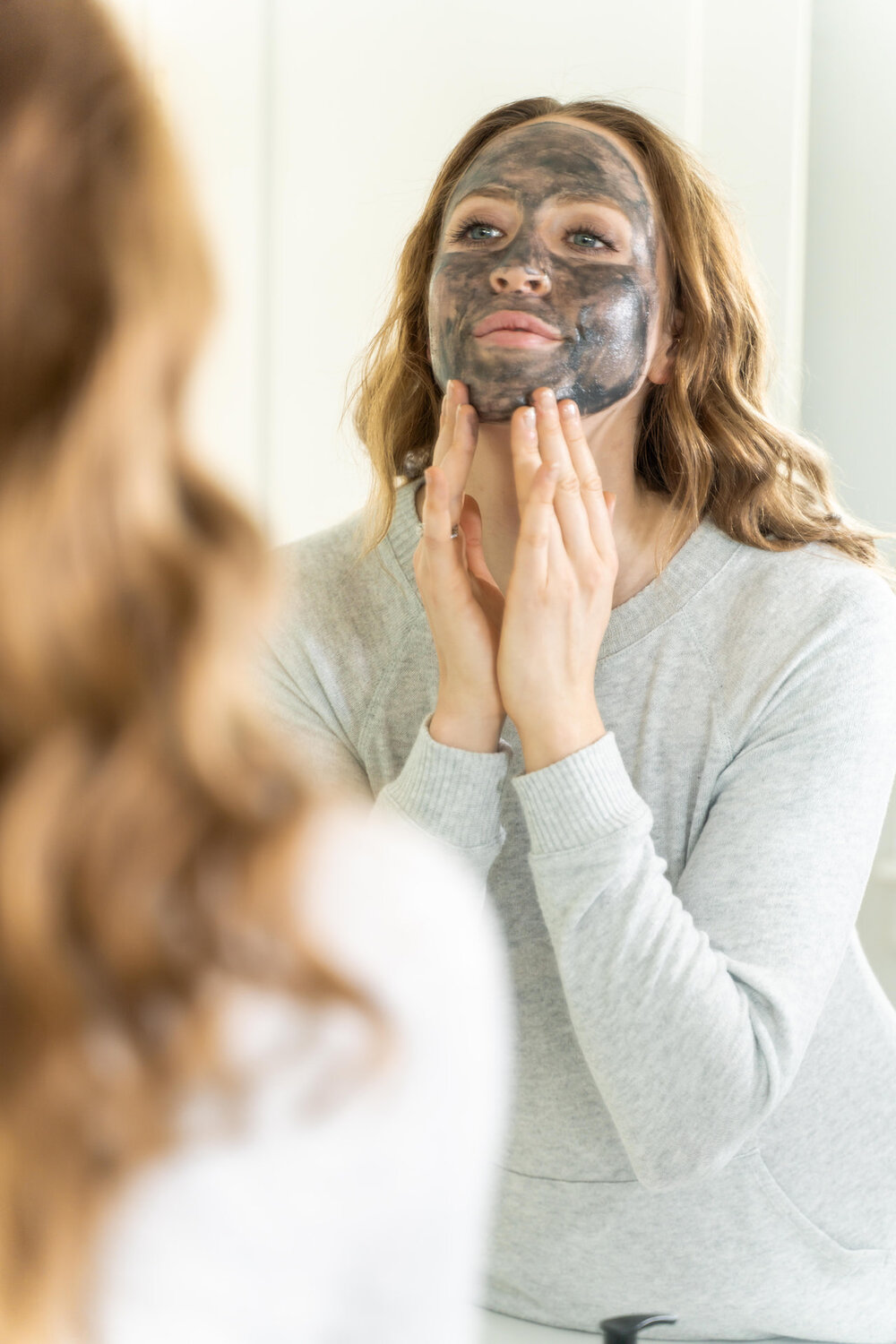 3. Once a week, treat any spots and apply a mask. Use either our Detoxifying Clay Mask, or our Purifying Charcoal Mask. Apply liberally to cleansed skin and leave the mask on for 10 minutes. Mist with toner to keep it moist, if needed. Finish with our Acne Support Gel if you have any blemishes that need treatment.
4. After cleansing, spritz your Toner Mist to tone and hydrate your skin. Allow to air dry.
5. Moisturize daily. Apply moisturizer every single day to keep your skin youthful, soft, and healthy. Use our Daily Moisturizer, Red Wine Moisturizer, or our Acne Support Moisturizer.
How do you use a polish & why?
A 'polish' is a type of exfoliant. It's a powerful exfoliating product that also cleanses, removing blackheads and reducing breakouts. In addition to cleansing and detoxing your face, the polish will also exfoliate your skin, clearing away dead skin cells.
What are the rules for exfoliating?
We recommend exfoliating once a week. If you have sensitive skin, be sure to use our Gentle Exfoliator. If you exfoliate too often you'll be doing more harm than good. We know exfoliating feels soooo yummy and good, but save it for that once a week, self-care spa night!
Face the new year with a fresh face. With our January Joyful Jordan Box, we're here to help you 'face' the new year confidently and optimistically! This month's JJ Box includes a complexion bar for sensitive skin, a facial brush, and age defying serum.
We've got all the information you need on how to use these items in your skincare routine, as well as some insights on how to make the most of the new year and get started in the right mindset.
Brighten and improve your complexion: When it comes to our skincare efforts, one of the things we all care about the most is having a beautiful, radiant complexion. Unfortunately, our skincare routines can often be so complicated and excessive that we end up hurting our skin more than helping it. This year, give your skin the break it needs by swapping out toxic and harsh products with our Complexion Bar for sensitive skin. This gluten-free oatmeal and gentle glycerin cleanser will soothe irritated skin and give your skin the reboot it needs to face the new year with a confident and brave face!
Start with a clean slate: As we move into a new year, it's time to get rid of any unhealthy habits, negative mindsets, and well, 2020 itself. The perfect way to get started with a clean slate is to give your skin the ultimate detox. Our Facial Brush uses soft bristles to gently exfoliate and polish the skin. It works together perfectly with the Complexion Bar. In addition to giving your skin the exfoliation it needs, detox other areas of your life. Consider going on a cleanse from alcohol, sugar, gluten, or dairy. Take some time to reflect on things you can cut out of your life, boundaries you can set in your relationships, and how you can rid yourself of things that don't improve your mood and mindset.
Make "youthful" your word for 2021: One of the best ways to start the new year on the right foot is to pick a word to focus on. Pick one that best fits you, but perhaps add "youthful" as a second word if it's not your primary word. You can channel your inner "youth" by adding more adventure and playfulness into your daily life. Get outside, travel locally, explore right outside your front door, and see everything around you as a child would. Get creative—cook new recipes, create art, or try learning a new hobby. When it comes to achieving youthfulness, our Age Defying Serum is effective in giving you a brilliant, youthful glow. Feel a difference almost immediately as your skin's thirst is quenched with this remarkable anti-aging serum.
Take your vitamins: It may not sound like a big deal, but making sure your body and your skin are getting their daily nutrients is vital to living well. With a virus, the flu, and the common cold all spreading during the winter season, it's important to take daily immune-boosting vitamins. Just like your body needs vitamins, so does your skin. Our Toner Mist is like a vitamin for your skin! Nourish and tone with one spray of this replenishing mist.
Commit to your skincare routine: When it comes to starting a new routine in the new year, we often hear of fitness routines and morning routines, but rarely do we hear of people improving their skincare routines. Your skin is one of the most vulnerable parts of your body, and it is important to commit to healing it too! We love our skincare products because they don't require complicated and long processes. Simply wash your face daily with our Complexion Bar and Facial Brush, spritz our Toner Mist onto your skin, and then finish with the Age Defying Serum.
Prioritize self-care: Whether it's morning meditation or yoga, or you journal or take a daily bath, write down some ways you can practice self-care this year. The best way to stay positive and stick to your new year's resolutions is to take care of your energy, your mood, and your mind.
As 2020 comes to a close, we are more excited than ever to focus our minds on new beginnings. In this past year we came together to fight a pandemic, and while we're still facing the challenges of COVID-19, we can't help but hope 2021 will be a year for big change.
Aside from the virus, there are also so many things you personally overcame and achieved, and there are numerous ways that you've grown and become a new and improved version of YOU.
After you've taken some time to pause and reflect on 2021, it's time to set your mind on New Year's resolutions and goals for the new year! Give yourself space to make a list of any resolutions or goals, and be sure to journal about your vision for the next year and beyond.
We've rounded up some tips to help you wrap up 2020 and prepare yourself for the new year! This list will help you unwind from the holidays, reflect, and get your mind ready for an amazing new year.
Soak in dead sea salts to unwind from holiday stress: Before jumping right into the new year, you need to give yourself time to rest from the busy holidays. Soak in our Lavender & Eucalyptus magnesium dead sea salts for the most relaxing scent and healing benefits. Or try our unscented soak and add your own essential oils to personalize!
Give your skin a reset: Detox from 2020 with a detoxifying face mask. Detoxify, deep clean, and pull pollutants from your skin with our Detoxifying Clay Mask.
Give your home a New Year's clean: Declutter, organize, and clean up your home to get you ready for 2021. Use our Green & Clean to ward off any germs in your house, and use our Healthy Home Duo to get your countertops, surfaces, and floors sparkling clean.
Get your kids healthy for the new year: Help your little ones reset for the new year by swapping out any toxic products that use unfamiliar ingredients with natural, healing products. Try our Toy Surprise Soap and our Moisturizing Monkey Lotion Bar. If you have a baby in the household, use the Orange & Lavender Essential Oils Premiere Baby System, which includes a baby lotion bar, baby wash, and baby lotion.
Don't forget to treat your pup too: Give your pup a deep clean for the new year with our Pet System. The system includes a pet spritzer and pet shampoo.
Take your skincare to the next level: Even if you wash your face every day and use a face cream, you might be missing out on optimal skin health. Make 2021 the year to combat anti-aging with our Super Serum Set. The set includes Time Rewind Eye Gel, Age Defying Serum, and Tone & Firm Serum.
Commit to body care in the new year: We take care of the skin on our faces every single day, but so often we forget about moisturizing the rest of our body. This year, use our Premiere Body Care Collection to get you started on a new healthy habit of taking care of your entire body day in and day out. The collection features salt scrub, shea body butter, shower gel, magnesium stick, foaming hand soap, lotion bar, and magnesium lotion.
Pair your fitness resolutions with toning lotions: If you've got fitness goals for the new year, then try our Tone & Firm Body Lotion to help tone, firm, and hydrate your body. You'll also love our Cellulite Scrub to help with any areas of need.
Spray a soothing scent as you prep for 2021: Spritz some Lavender Essential Oil Spray or our Peace Essential Oil Spray to create a soothing, relaxing space to write out your resolutions, journal, and focus on your vision for the future.
Here's to a new year and a fresh beginning! Hello 2021.
When it comes to indulging in some nourishing self-care, nothing beats dead sea salts. Dead sea salts have a multitude of skincare benefits, and they are also incredibly effective in relieving stress and tired muscles. This winter season, we're treating our cold, dry, and tired bodies with dead sea salts for the ultimate skin, body, and mental reboot!
Find out what our obsession over dead sea salts is all about and how to use them in your own self-care routine.
What Are Dead Sea Salts?
Dead sea salts actually do come from the Dead Sea, like their name suggests. These magnificent salts contain 21 minerals not found anywhere else in the world—minerals like magnesium, calcium, chloride, potassium, sodium, and bromide. These powerful minerals are best known for relieving aching, tired muscles, arthritis, and even symptoms of fibromyalgia.
While you can travel all the way to the Dead Sea to soak in its goodness, you can use Jordan Essentials' dead sea salts to enjoy the benefits right in your own tub!
Jordan Essentials Dead Sea Salts
At Jordan Essentials we take our dead sea salts seriously! We "power up" the soothing effects of our dead sea salts by adding extra magnesium and stress-relieving essential oils, like peppermint or lavender.
Why We Use Dead Sea Salts
One of the most common reasons for using dead sea salts is to heal tired, achy, and sore muscles. Even if your muscles aren't sore, you can benefit from soaking in dead sea salts for their relaxing effect on the body and the mind. But what many people don't know is that dead sea salts are also beneficial in improving your skin too!
Dead sea salts detoxify the skin and remove impurities, giving the skin a fresh, younger appearance. The packed minerals will work together to enhance skin hydration, removing flakiness and the ashy, dry appearance we so often get in the wintertime. Minerals like calcium, potassium, and zinc especially help relieve itchy skin.
4 Ways To Use Dead Sea Salts
Here are 4 ways to use dead sea salts at home and reap the benefits of these much-needed minerals!
1. Add dead sea salts to your bath: Add about a ¼ cup of dead sea salts to your warm bath. If you prefer to create your own essential oils blend, then use our Unscented Magnesium Dead Sea Salts. Just add a drop of two to your salts and mix together before adding the salts to your bath. Or try one of our therapeutic essential oil bath salts, like Peppermint, Lavender, or Oatmeal Milk and Honey.
2. Make your own dead sea salt foot soak: Add 2-3 tablespoons of our dead sea salts to a foot bath of warm water and allow the salts to completely dissolve. Get cozy and let your feet soak in the water to heal. The minerals will be absorbed into the bottom of your feet, treating both your tired feet and your entire body by replenishing it of depleted minerals.
3. Use dead sea salts to treat dandruff: Yep. Dead sea salts can even diminish dandruff! Simply combine 1 tablespoon of our Unscented Magnesium Dead Sea Salts with 1 tablespoon of our Unscented Shea Body Butter. Massage the mixture into your scalp and wait 5 minutes. Then rinse well and wash your hair with shampoo. The mineral components of the dead sea salts give the scalp a deep cleanse, combating the bacteria and yeasts that cause flaky skin and dandruff.
4. Heal your nails and cuticles with dead sea salts: Soak your nails in a mixture of 1 teaspoon dead sea salts, 1 drop lemon essential oil, 2 tablespoons water, and ½ teaspoon olive oil. Combine the ingredients well and soak your nails for 5 minutes. Then scrub them with a nail brush and rinse well.
There are so many wonderful benefits to using dead sea salts for your skin, your body, and your mental health. It's time to take a trip to the Dead Sea (aka your bathtub!) to reap all of the benefits of our favorite self-care ritual!
During the winter months, it's no secret that our skin suffers from dryness. One of the areas that suffers the most is our feet. Treat your feet this season with our December JJ Box! We've got everything you need to take care of your feet and keep them healthy during the cold, dry months.
Keep Your Feet Moisturized & Healthy
Don't neglect your feet during wintertime! Everything from cracked heels and calluses to dry skin and nails, can put a damper on the holiday season if your feet aren't healthy.
In order to keep your feet healthy, exfoliate your skin with an effective foot scrub. This will help heal cracked and calloused skin. Use a thick and moisturizing shea butter to soothe and smooth out your skin. In the shower, don't forget to cleanse your feet too!
Once you've taken care of your feet, make sure to maintain their healthy by wearing thick socks all winter long—avoid walking barefoot!
December JJ Box For Healthy Feet
This December, our biggest concern is making sure you treat yourself and indulge in a spa-like treatment for your feet. Treating your feet is the ultimate way to bring the luxury spa experience into your home!
Our Jordan Essentials JJ Box features our Peppermint Foot Scrub and Peppermint Shea Butter, along with an exfoliating mitt to use for scrubbing and moisturizing.
Shea butter is one of the best ingredients for moisturizing your feet because shea butter effectively repairs and heals dry skin, provides anti-inflammatory benefits, deeply moisturizes and strengthens skin, and it even relieves tired and achy muscles.
Try Dead Sea Salts For Ultimate Foot Health
Here at Jordan Essentials we love to soak in magnesium salts to soothe tired muscles and immerse ourselves in the ultimate relaxation experience. But what you may not know is that you don't have to take an entire bath just to heal your feet. Fill your tub or a bucket with warm water and dead sea salts for a rejuvenating and healing foot soak.
Magnesium salts are essential for rebooting tired feet, and they'll fuel your feet with nutrients like magnesium, potassium, and calcium. Try one of our seasonal scents like Peppermint.
Be sure to check out this month's Joyful Jordan Box to treat yourself this holiday season!
'Tis the season for frankincense! Our favorite Christmas essential oil has a long history of use in health, religious, ceremonial and sacred practices.
Frankincense History: The "King of Oils"
It is known as the "King of Oils" because of its respected history. The use of frankincense has been traced back to over 5,000 years ago, when it was first used as incense. It was used in temples and for beauty treatments by the ancient Egyptians. Frankincense was even used in mummy preservation and in facial masks!
Frankincense is perhaps most well known for being one of the gifts given to the baby Jesus. It was highly regarded and a prized oil, commonly used in healing practices for both physical ailments and for emotional stress as well.
Frankincense Today: A Balancing & Grounding Essential Oil
Today, Frankincense organic essential oil is used in a wide range of health and beauty products. It is also a primary oil used for yoga and meditation. This earthy, heady fragrance promotes a balanced state. Organic frankincense essential oil is considered a grounding oil.
With its relaxing and balancing properties, organic frankincense essential oil is perfect when used first thing in the morning. Whether you start your day with prayer, meditation, or a strong cup of coffee, diffusing frankincense will promote a feeling of wellbeing and calm.
How To Use Frankincense Essential Oil
Organic frankincense essential oil can be diffused throughout the day to promote balance and focus. Its calming properties are also useful in skincare. The oil rejuvenates and revives the skin. It works on the cellular level to support healthy growth and maintenance. The use of organic frankincense oil helps to slow premature aging by reducing the appearance of wrinkles, aging spots, and other blemishes. Traditionally, frankincense essential oil has also been used in lotions to reduce the appearance of scars and stretch marks.
For hand care, use organic frankincense to soothe dry, cracked cuticles. Add a drop to your favorite unscented hand cream and massage into the cuticle area. Frankincense is also beneficial in helping your fingernails. Place a drop on your fingertip and massage directly onto the nails and nail bed.
You will also find Frankincense in our December Customer Special, the Frankincense and Orange Magnesium Stick. This stick has many great benefits, but one key benefit you will love is it's ability to ease stress and anxiety, great for the holiday season!
For ultimate relaxation, use a combination of massage oil and frankincense for soothing and healing.
Step 1: Find an organic frankincense essential oil. Add to your favorite unscented products and diffuse in your home and work space.
Step 2: Stock up on unscented magnesium bath salts for ultimate healing and relaxation, and add a drop of frankincense oil to your bath or foot soak.
Step 3: Find an unscented lotion to add your frankincense oil to for peace and calm. Try our naturally unscented magnesium lotion. For your hands, use our unscented hand and body lotion. For maximum results, use our ultra-moisturizing unscented shea body butter for smooth and healthy skin.
Step 4: Breathe in the natural aroma of frankincense in every room. Either use your diffuser to spread the healing benefits of frankincense, or add a drop or two of frankincense to our unscented spritzer.
Frankincense Aroma & Blending
Although it does have a citrusy note, frankincense is a tree resin. It is produced from the resin of the Boswellia sacra tree. The sap is collected from the tree and processed to produce organic essential oil. Organic frankincense essential oil pairs well with other organic essential oils like lime, lemon, and orange. Its earthy scent and wellness boosting properties also work well with cypress, lavender, sandalwood, and clary sage.
The Key Benefits of Frankincense
Nourishes the skin with anti-aging properties

Astringent properties to help decrease acne

Promotes inner peace and calm

Helps reduce stress and anxiety

Supports immune system

Provides joint support by reducing inflammation
If you haven't had a chance to try frankincense already, be sure to give it a try this Christmas season! Our other favorite holiday essential oil scents include uplifting orange and cooling peppermint.
As we approach December, we're officially feeling the effects of the colder weather and dry air. Our skin is cracked, our lips are chapped, and we're in need of some serious pampering! On top of the harsh winter weather, we've got the added stress of the holiday season and a pandemic keeping us busy and dealing with complicated social distancing guidelines.
Ahhh, time to take a deep breath. Trust us when we say we've got you covered when it comes to winter self care. Our guide to winter self care features ways to boost your mood, relax your body and mind, pamper yourself, heal dry skin and lips, and find both comfort and joy during the winter months.
Use essential oils to boost your mood: Stress and holiday busyness aside, the winter weather has a tendency to bring down our moods, especially after Christmas and New Year's is over. One of the most effective ways to improve your mood is to use essential oils. You can add them to your unscented products, use them in cleaning products, add them to our hand sanitizer, or diffuse them in your house to lift your spirits. Try our Peace Herbal Blend Spray to spritz calming essential oils in every room of your house!
Bathe in dead sea salts to relax: Relax tired muscles and sleep better with our effective dead sea salt soaks. Whether you're experiencing stress, or you need to recover after working out, these bath salts will revive both your body and your mind. Magnesium, potassium, and calcium soak away aches, pains, and daily wear. We love the Peppermint soak for its festive scent, but you can also try our Unscented soak and add your own favorite essential oils!
Apply face masks for pampering: There is truly nothing better for pampering yourself than using face masks. Not only do face masks cleanse, purify, and revitalize your skin, but they are also soothing, relaxing, and indulgent. We love the Detoxifying Clay Mask for that much-needed deep cleanse that removes pollutants and toxins from your skin. You can even use this mask for a spot treatment for any blemishes that you have. Our Purifying Charcoal Mask is essential for cleansing your pores, purifying your skin, and gently exfoliating.
Use lip balm to heal chapped lips: If there's one thing you simply can't skimp on during winter months, it's taking care of your lips. Make sure you're using lip balm daily to take care of your dry, chapped lips. We love using the Lip Care Duo which includes a shea butter lip balm with cherry, and a lip exfoliant.
Find a daily moisturizer and body lotion for soothing dry skin: While you may already use a daily moisturizer for your face, make sure you're also using a body lotion every day to ensure you're combatting dry skin head to toe. For your face, try our luxurious Red Wine Deep Daily Moisturizer, and for your body, use one of our Shea Body Butters.
This week on our Weekly Spotlight Sale, we're featuring a Comfort and Joy Collection. This collection includes Skin Relief, which is a proprietary blend of nutrient rich aloe, green tea, seaweed, chamomile, and vitamin E. This thick body lotion soothes even the driest skin, and will bring you comfort! The collection also features our blended essential oil, Orange Lavender Essential Oil Blender Buddy, that will bring you joy this season. The Comfort and Joy Collection is only $20, so you'll save $4!