Let's talk masks! We're not talking Halloween costume masks, but the super relaxing kind of masks you might enjoy at the spa. We can't get enough of our therapeutic and beneficial face masks!
We've decided to round up the many benefits of our key Jordan Essentials masks.
Here is everything you need to know about our Detoxifying Clay Mask and Purifying Charcoal Mask.
Our Detoxifying Clay Mask is great year-round due to its ability to remove pollutants from the skin and provide a deep clean. Made with Bentonite clay, this mask is suitable for all skin types and can even be used as a spot blemish treatment.
In addition to removing toxins and detoxifying the skin, Bentonite clay also treats oily skin and acne, and it removes any makeup clogged in the pores.
This clay mask also features safflower seed oil, apricot kernel oil, sweet almond oil, castor oil, sunflower oil, aloe, green tea, chamomile, and seaweed. The oils help moisturize the skin and nourish it with antioxidants. Aloe helps reduce the appearance of blemishes, as well as moisturize and heal the skin, while green tea is loaded with antioxidants that help with anti aging. Chamomile speeds up the healing process and seaweed hydrates the skin. The combination of moisturizing, hydrating, and healing make this a great mask for all seasons and all skin types.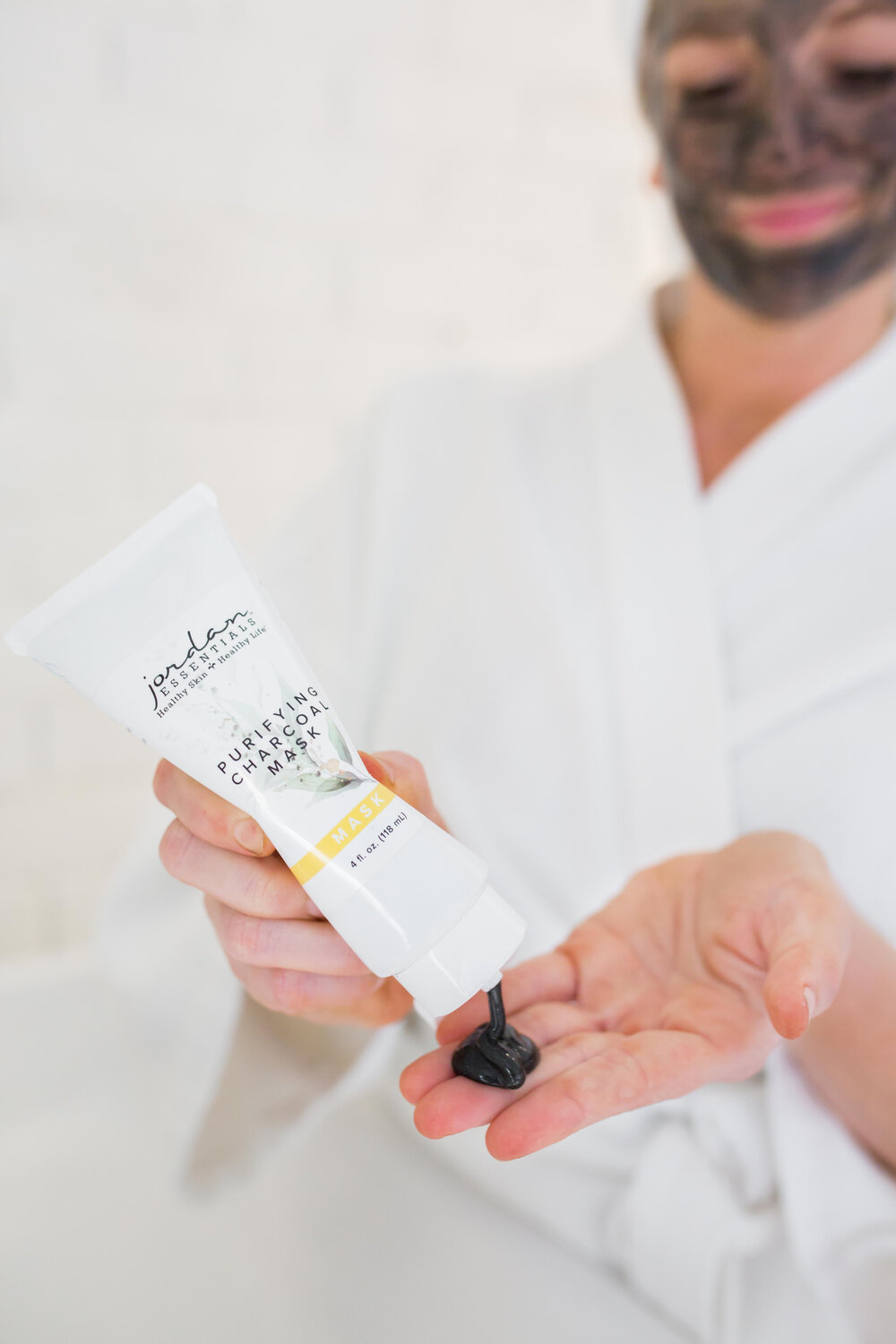 The Purifying Charcoal Mask is an essential for your beauty cabinet. If you're not using activated charcoal in your skincare routine yet, then you'll definitely want to learn about the many benefits of charcoal.
Charcoal removes impurities from the skin and leaves behind a healthier, clearer complexion. Using a charcoal face mask will provide you with brighter skin tone.
Due to its ability to remove bacteria and dead skin cells from the skin, charcoal is able to heal acne. The antibacterial properties of charcoal allow it to lift bacteria from the pores, purify the pores, and improve overall skin tone. Charcoal rids your skin of acne-causing elements like excess sebum, clogged pores, and dead skin buildup.
Got oily skin? Charcoal can even mattify oily skin by balancing the oil secretion on the skin. If you have oily, blemish-prone skin, a charcoal face mask is especially beneficial.
Jordan Essentials face masks are made from the highest quality and natural ingredients, so you know you are pampering your skin the healthy way.
Watch for info about our super fun Toner Mists and Sheet Masks too!
The lavender story begins in 1910 when René-Maurice Gattefossé plunged his hand into a vat of lavender oil after suffering a severe burn. He was amazed at how quickly, and with minimal scarring, the burn healed. His story spread and elevated lavender to its prominent position as the go-to essential oil for burns.
We don't know about you but minor cuts and burns happen all the time all summer long.  No need to watch your family  suffer with Lavender Essential Oil in your Mom bag of remedies.  Lavender is an "essential" (pun intended) oil for busy families during the summer months.
Cool it down! It is true that Lavender Essential Oil is fantastic for minor burns, including sunburn and windburn. To start the cooling and healing process quickly, mix one or two drops of Lavender Essential Oil with a quarter-size amount of your favorite unscented lotion like JE Skin Relief, and gently apply to the affected area.  The lavender will immediately begin cooling and soothing. Skin Relief will help nourish the skin back to health.
Want a quick spritz and premix?  Lavender Essential Oil Spray is safe to spray directly on the skin for that instant, soothing effect.  It is perfectly diluted for use around the home, car, or workplace.
Summer on-the-go stress freaking you out just thinking about it?  Lavender Essential Oil takes care of that too. It is calmness in a bottle! Enjoy its relaxing properties by placing a drop or two on a cotton ball, hold it gently in your hands, raise up to your nose and inhale! Ahhhh….the aroma fills your nose and calms your spirits!  You can take on anything summer can dish out!
Well…maybe not quite everything! If you get a little too energetic with playing in the park, exercising or yard work, tight and sore muscles can benefit from lavender essential oil also.  Partner lavender with Magnesium and you have the one-two punch. Jordan Essentials has made this easy with our premixed Lavender Magnesium Spray. This spray is diluted to be sprayed directly on the skin and is ideal for those hard to reach places like between the shoulders and lower back.
Moms can mix their own Lavender Magnesium lotion. Take a drop or two of Lavender Essential Oil and add it to five pumps of Naturally Unscented Magnesium Lotion, gently mix and apply to the sore muscle area. Fast relief is on the way!
Feel good knowing there are alternatives like Lavender Essential Oil that can be used by the whole family in a variety of ways.
Connect with your Jordan Essentials consultant today about adding Lavender Essential Oil to your next order. Be Mom summer ready!
Everyday, we give families all over the United States the opportunity to create the life they have always dreamed of and enjoy products they can feel good about using. But this month, we have the opportunity to give more. As most of you already know, for the entire month of October, anything a host earns in host credit, we are going to match in product to donate to Toys for Tots, a program initiated by the U.S. Marine Corps Reserves to provide toys and hope to underprivileged children across the U.S. For example, when you host in October and earn $75 in free host credit, all of us at Jordan Essentials will donate $75 in products from our children's line. Contact your local Consultant TODAY!!
#jordanessentials
#toysfortots