It's that time of year when the days get longer, the sun shines brighter, and the flowers are in bloom.
Kids everywhere are dying to get outside and celebrate. After-school days are filled with playdates on the playground, picnics in the park, and patio dinners with friends. We don't know about you, but we are sensitive to putting anything toxic around my family. When looking for insect repellent we avoid DEET.

DEET is a key, stinky ingredient of many popular bug sprays on the market. Its safety is questionable. Studies have linked it to nervous system issues, respiratory issues, and skin reactions. . Luckily, there is a choice available – JE Bug Away Spray! Studies by Consumer Reports found that deet-free products, like Bug Away Spray, can actually work better!
Bug Away Spray contains no harmful ingredients. It naturally repels pests using natural ingredients like Oil of Lemon Eucalyptus and Peppermint Essential Oil. Oil of Lemon Eucalyptus—not to be confused with Lemon or Eucalyptus Essential Oils—comes from the leaves of a specific species of the eucalyptus tree. It naturally repels bugs!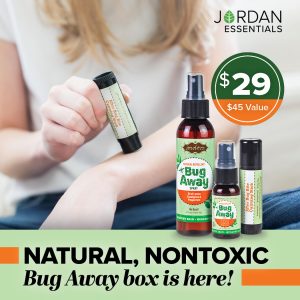 And, unlike DEET, there is ZERO evidence that Oil of Lemon Eucalyptus is harmful. Not only is it a powerful and effective tool for repelling pests like mosquitoes and ticks, but it is also potentially helpful with muscle spasms, joint pain, and sinus issues.

Peppermint Essential Oil is also effective at repelling spiders and rodents! Plus, peppermint has soothing and cooling properties.
And best of all this combination smells amazing!
Jordan Essentials Bug Away Spray can be applied directly to skin, clothes, and pets (with the exception of our beloved feline friends, no kitties) and can be used around your home. It can be safely used on children three years and up. For younger kiddos, apply it to their strollers, carriers, or surroundings to keep them protected without applying it directly to their skin.
It makes me feel good to have safe, natural alternatives like this for my family. If you're like me and want to take a more natural approach to your bug spray, grab your Bug Away Spray today!
Jordan Essentials Bug Away Spray is DEET free! Jordan Essentials does not claim to diagnose, prevent, treat, or cure anything. Information is provided for educational and entertainment purposes only. Contact your healthcare provider with specific concerns. Not endorsed by the FDA.