There are several ways you can detox your life – clearing the clutter out of your space, eating better and analyzing your diet, removing stress, and watching the ingredients in the products you use on your skin.  Changing any or all of these things can bring down your stress and anxiety levels and detox your life.

Let's get started with the end goal.
Easy, clean, healthy habits and routines that make you feel good and look good too.
Keep it simple and start with small steps. Over time, these small steps can make a big difference.
Little changes and knowing what to look for can make a huge difference.
Take inventory of what you are eating.  There are thousands of healthy recipes and weight loss, health programs out there.  Watching what you put in your body can be one way to detox. People often think about what they put in their body, but not as often as what they put on it!  What we put on our skin goes into our bloodstream and affects our body, health, and overall well-being.
A simple way to start your detox process is to turn over your products and check out the labels and ingredients.
If your products have any of the ingredients listed below, it is time to detox your skincare. These statements have not been evaluated by the FDA, but there is so much controversy and conclusive studies, we say when in doubt – throw them out!
1. Parabens – These are preservatives found in many cosmetic and skincare products and are known hormone disruptors. They can be linked to breast cancer and reproductive toxicity by mimicking estrogen receptors on cells as reported by the Campaign for Safe Cosmetics.
2. Aluminum – And not just the cans of soda and other drinks come in.  Aluminum is in your skincare products! Check your labels and see for yourself. This is most commonly found in antiperspirants. It works to block the pores, preventing the natural removal of sweat from your body.
3. Phthalates – This chemical is often demonized in the use of fragrance oils. The National Toxicology Program, in last year's 13th Report on Carcinogens, listed Di(2-ethylhexyl) phthalate (usually known as DEHP) as "anticipated to be a human carcinogen." A 2007 study also linked obese or insulin-resistant American men to higher levels of DEHP in their urine.

4. Sodium Lauryl Sulfate (SLS) & Sodium Laureth Sulfate (SLES) – These chemicals can irritate your skin, lungs, and eyes. Who wants that? Soaps and shampoos often contain these foaming agents. We feel the more suds the better…Not true. And, these chemicals wash down the drain and into other areas to pollute our environment.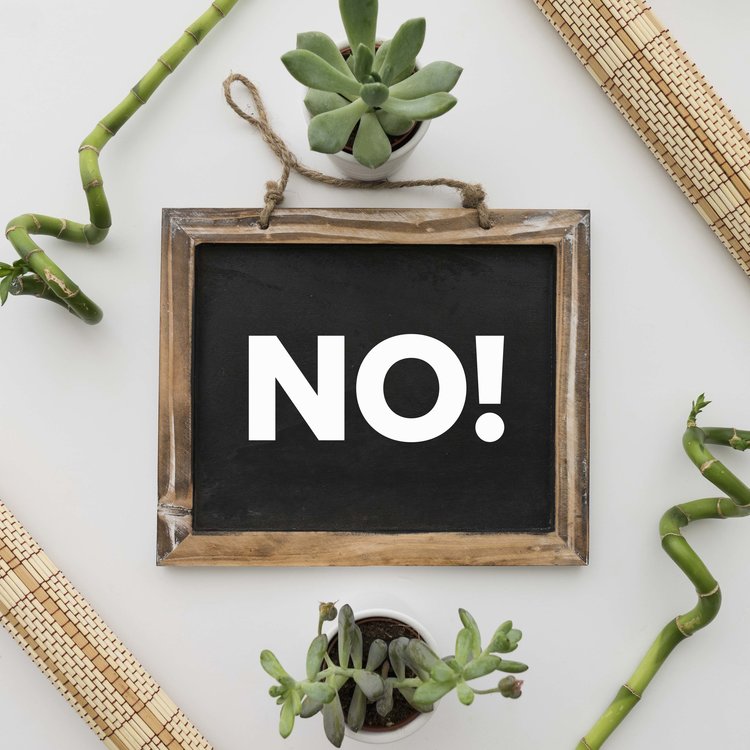 5. Mineral Oil – Besides being an environmental hazard, a 2011 study found mineral oil to be the largest contaminant in the human body! Human fat accumulates mineral oil over time basically from the skincare products you use on a daily basis.   Untreated mineral oils are listed as carcinogens by the World Health Organization. Most (and how do you really know) cosmetics probably contain refined mineral oil from petroleum which will also accumulate in the fat in your body. Mineral oil can easily be replaced by wonderful hydrating ingredients like jojoba, almond oil, and grape seed oil. The real kicker is the cost to the company.  Bottom line, find a company that cares about the consumer and adds yummy oils you would eat, not petroleum-based that accumulate in your fat cells.
It only takes a little time to learn the buzzword products to avoid. Then you will be a detox pro in no time when it comes to skincare! 

Jordan Essentials has these ingredients on our "never ever" No No List so you can count on us to help you in your efforts to detox.
It's that time of year when the days get longer, the sun shines brighter, and the flowers are in bloom.
Kids everywhere are dying to get outside and celebrate. After-school days are filled with playdates on the playground, picnics in the park, and patio dinners with friends. We don't know about you, but we are sensitive to putting anything toxic around my family. When looking for insect repellent we avoid DEET.

DEET is a key, stinky ingredient of many popular bug sprays on the market. Its safety is questionable. Studies have linked it to nervous system issues, respiratory issues, and skin reactions. . Luckily, there is a choice available – JE Bug Away Spray! Studies by Consumer Reports found that deet-free products, like Bug Away Spray, can actually work better!
Bug Away Spray contains no harmful ingredients. It naturally repels pests using natural ingredients like Oil of Lemon Eucalyptus and Peppermint Essential Oil. Oil of Lemon Eucalyptus—not to be confused with Lemon or Eucalyptus Essential Oils—comes from the leaves of a specific species of the eucalyptus tree. It naturally repels bugs!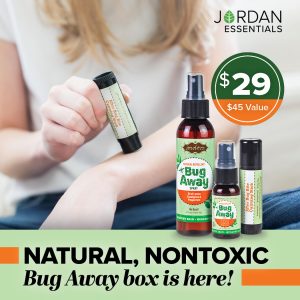 And, unlike DEET, there is ZERO evidence that Oil of Lemon Eucalyptus is harmful. Not only is it a powerful and effective tool for repelling pests like mosquitoes and ticks, but it is also potentially helpful with muscle spasms, joint pain, and sinus issues.

Peppermint Essential Oil is also effective at repelling spiders and rodents! Plus, peppermint has soothing and cooling properties.
And best of all this combination smells amazing!
Jordan Essentials Bug Away Spray can be applied directly to skin, clothes, and pets (with the exception of our beloved feline friends, no kitties) and can be used around your home. It can be safely used on children three years and up. For younger kiddos, apply it to their strollers, carriers, or surroundings to keep them protected without applying it directly to their skin.
It makes me feel good to have safe, natural alternatives like this for my family. If you're like me and want to take a more natural approach to your bug spray, grab your Bug Away Spray today!
Jordan Essentials Bug Away Spray is DEET free! Jordan Essentials does not claim to diagnose, prevent, treat, or cure anything. Information is provided for educational and entertainment purposes only. Contact your healthcare provider with specific concerns. Not endorsed by the FDA.
Here at Jordan Essentials we like to clean our homes with natural products, but we also like to get the whole family involved! You know what they say – many hands make light work!
Here are some of our favorite ways to make cleaning day more fun and efficient for the whole family.
Make a list! Before you begin, talk a walk around the house with your family and make a list of every task that needs completing. Include everything from folding the laundry to sweeping the kitchen to tidying the playroom to cleaning the bathrooms.
Assign jobs! Make sure that your list includes a handful of tasks suitable for each age in your family, and then assign every member their tasks for the afternoon. For younger children, it is always beneficial to incorporate some visual aspects for their tasks. It can be as simple as writing their tasks in a unique color on a dry erase board. They also will be more effective when they are given specific tasks. For example – 'Clean your room' can be overwhelming for a toddler, but 'put your shoes in your closet,' and 'put your pillows on your bed' will be easier for them to grasp.
Provide supplies! Once jobs are assigned, determine what supplies everyone will need to accomplish their cleaning tasks. For little ones in specific, they love having their own tools. Here are some age-appropriate supplies and tasks.
Old socks for dusting: Throw old socks on your little one's hands, and have them go around the house dusting shelves, tables, blinds, and anything they can reach. If the dust and allergens give them the sniffles, simply use our Allergy Magnesium stick under their nose (children 2+).
Broom for sweeping: An adult may want to handle the mopping, but allow your child to practice sweeping at whatever age you deem appropriate.
Green and Clean for the kitchen table and other surfaces: Although Green & Clean is safe enough for a nursery, save this task for older children capable of spraying and wiping down surfaces. It can be used on everything from doorknobs to toys to cell phones and more!
Healthy Home Cleaner for the bathroom: Use the power of Tea Tree Oil to clean the sink, bathtub, tiles, and more! When it comes to cleaning the bathroom, save this task for someone 10+.
Offer rewards! It's amazing what a small reward can do for the motivation of a child and teen alike, so determine a fair reward for their complaint-free afternoon of cleaning beforehand. This can be anything from more screen time to sweet treats to a trip to the local zoo!
For younger children, you can also hide small rewards in the laundry or any area they may clean, so they can find these as they go. This can be chocolates or tokens they can turn in for rewards (books, toys, movie afternoon, etc)! Be creative and tailored to the likes of your children.
Make it competitive! Make cleaning fun by setting competitive time goals to reach. This is a great way to incorporate some tunes. Play your child's favorite song, and see if they can finish cleaning their room before it ends. You can also give each child a bucket, and have them collect toys or dirty laundry for the duration of a song. Whoever has collected the most items at the end, wins!
Maintenance routine! After a successful afternoon of cleaning, create a set list and routine that the family is expected to participate in as often as deemed necessary. Of course, you can also create smaller lists that can be completed more frequently such as weekly or even daily.
Every family is different, so it may take some time to figure out what works best within your home. Our best advice is to have fun and be confident that when you use Jordan Essentials products, you are using natural and safe products for the whole family.
One key to a good face care routine is consistency. Using naturally-based, non-toxic products daily will support healthy, more youthful-looking skin. Simplicity to the routine will make it easy to follow on a daily basis.
Jordan Essentials Founder & CEO, Nancy Bogart, is an anti-aging expert! She follows a simple, consistent routine for skincare twice daily to maintain her youthful, glowing complexion.
Nancy's five steps are:
Step 1: Cleansing

Step 2: Exfoliating

Step 3: Masking (Not daily)

Step 4: Toning

Step 5: Moisturizing (& Serums)
Watch Nancy in action with this quick Face Care 101 Tutorial – Click Here
Step 1 – Starting with a clean slate is important. Gently cleansing the skin twice a day is important to remove the toxins we are exposed to daily. Gentle Cleanser Foaming Wash is a safe, effective cleansers for all skin types.
Cleansing before bedtime supports the body's regeneration of new cells and allows them to detoxify naturally. Cleansing when we wake up clears away the "sleepy" cells and reveals a fresh face ready to take on the day.
Step 2 – Exfoliating away the old, dry skin cells doesn't need to be done daily. Exfoliating products contain slightly more abrasive ingredients to buff and polish the skin, promoting a smooth and soft glow.  It can be worked into your routine as your skin needs a freshen up.
Jordan Essentials provides two options.  Choose between JE Gentle Exfoliant with jojoba beads (for all skin types including sensitive skin), or JE Spa Polish with refreshing cucumber and finely crushed walnut shells for normal or oily skin.
Step 3 – A healthy facial mask is your at-home spa treatment! Like exfoliating, masking is not needed daily. Masking supports adding rich nutrients to the skin and removing impurities from clogged pores that daily cleansing can't fully remove.  Masks from Jordan Essentials do not peel away layers of skin! They soften, soothe and support collagen renewal.
Step 4 – Toning can also be Step 2 in a simple daily routine. Toner Mist tightens the pores and hydrates the skin. It is like liquid vitamins for your skin! Light and easily absorbed, Toner Mist can be used throughout the day to freshen, brighten and add moisture to your skin.
For acne control, add 10 drops of Jordan Essentials Tea Tree Essential Oil to a 4-ounce bottle of  Toner Mist.  Tea Tree has antibacterial, antimicrobial, and antiseptic qualities that help combat acne.
Step 5 – The final step of a daily face care routine is to moisturize. Morning or night, moisturizing is needed to keep our skin hydrated. All skin types need hydration to stay looking and feeling healthy, smooth, and vibrant with a youthful glow.
Depending on your skin type, your morning moisturizer may differ from your nightly moisturizer. And moisturizing needs often change with the seasons. Be adaptable but be consistent with using moisturizer twice daily.
Step 5 can be enhanced with serums for the extra boosts to fight aging and to maintain healthy skin. Talk with your Jordan Essentials Consultant for more information on the variety of serums and face care products Jordan Essentials offers or visit us at www.jordanessentials.com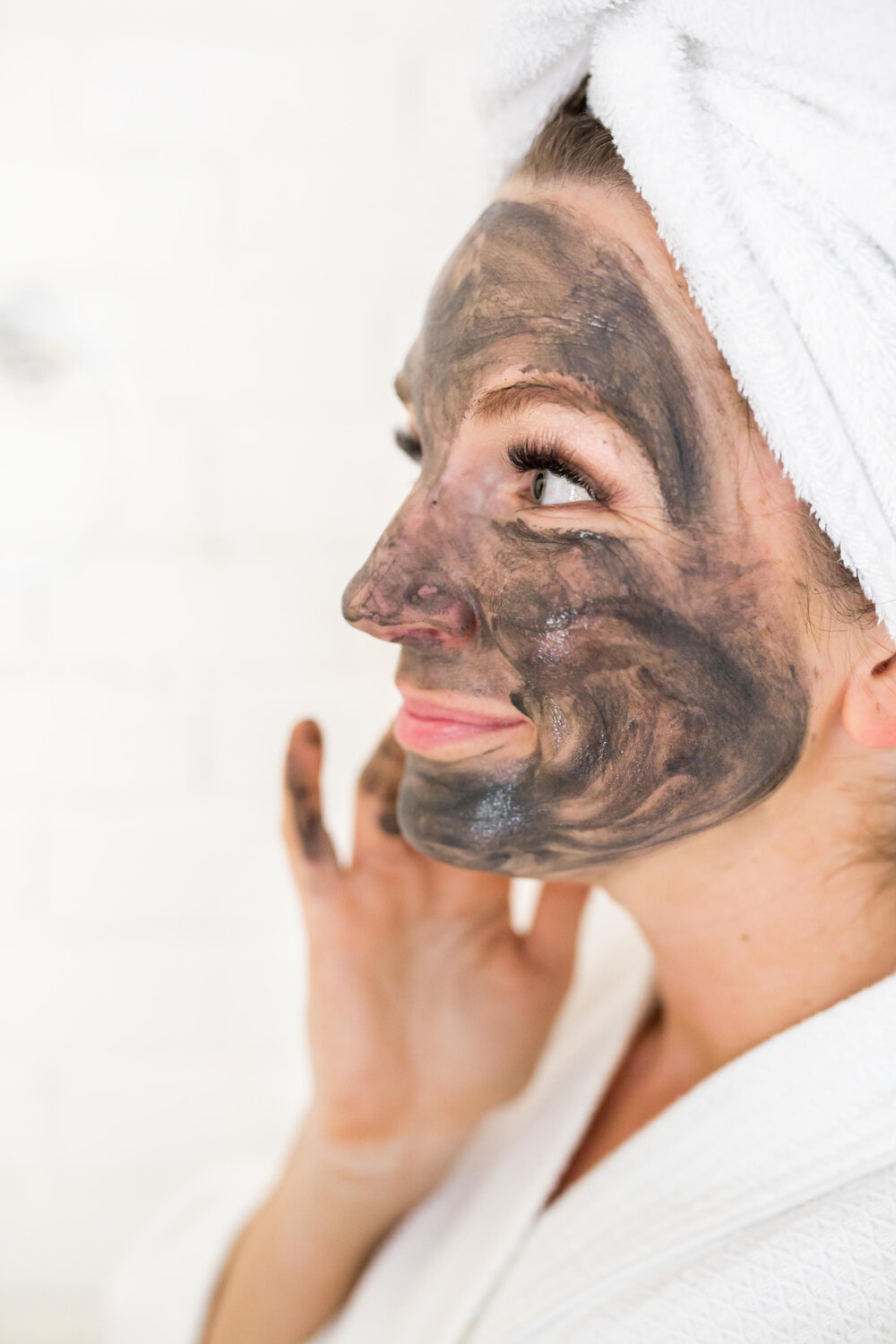 Our faces are a reflection of how we're doing, whether or not we're feeling well, and they tell others whether we've been stressed and not getting enough sleep, or whether we're well-nourished and taking good care of ourselves. Let's be real—we've all been all over the spectrum when it comes to how healthy our faces are.
One of the best and quickest ways to take care of your face is to use a face mask. We especially love our Purifying Charcoal Mask for removing impurities and toxins from the skin's surface as well as deep in pores. It also helps your skin retain its natural moisture as the good stuff soaks in!
This week, reset your skin, reboot your health, and pamper yourself with some much-needed self-care by setting aside some time to indulge in a soothing face mask. Face masks are great because they require you to take a break from your busy life and just enjoy the benefits of skincare.
We recommend cleansing your face first, applying a mask, and then finishing up with a rejuvenating face mist!
Here are 5 ways you can practice self-care this week to heal both your face and your entire being!
1. Purify your skin with charcoal: Our Purifying Charcoal Mask is a fun and effective face mask for ridding your skin of impurities and giving you a deep cleanse. This relaxing ritual will not only refresh your skin health, but it will also give your face a bright, youthful glow. And who doesn't need that midweek?!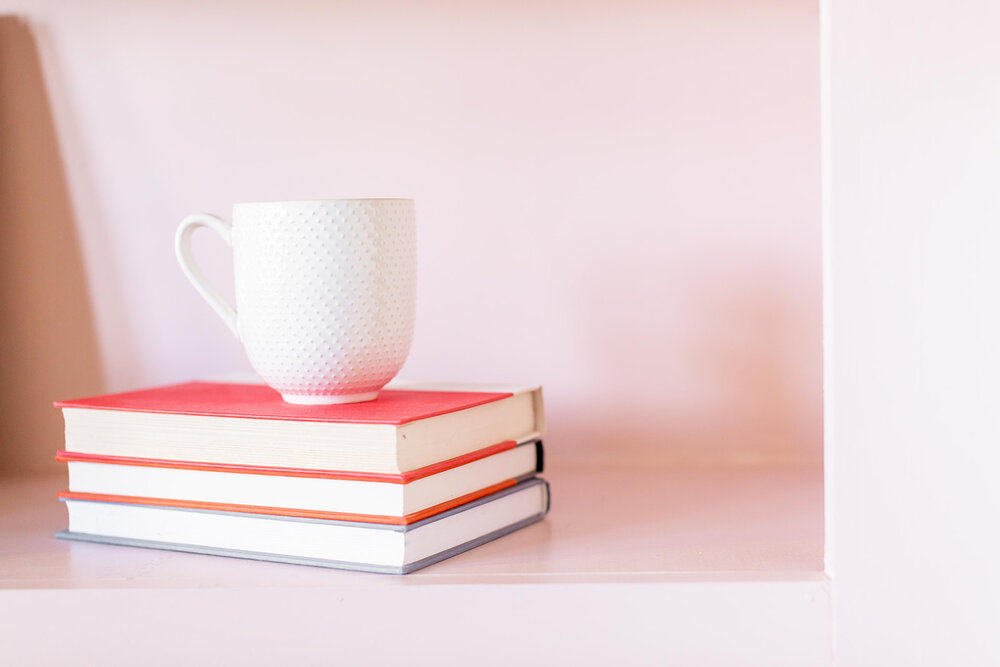 2. Pick up a book: When was the last time you read a book cover to cover? With so many binge-worthy TV shows, it can be hard to set aside time for reading, but giving your eyes and your face a break from the harsh light of a TV or computer screen is great for improving your wellbeing. Instead of turning on the TV, pick out a book that you've been dying to read!
3. Cleanse & detoxify your skin: Use the Detoxifying Clay Mask to give your face a deep cleanse and pull pollutants from your pores. This bentonite clay mask is beneficial for all skin types, and it can even be used as a blemish spot treatment! This means you can truly revive and heal your skin and step into the week with a fresh, radiant face!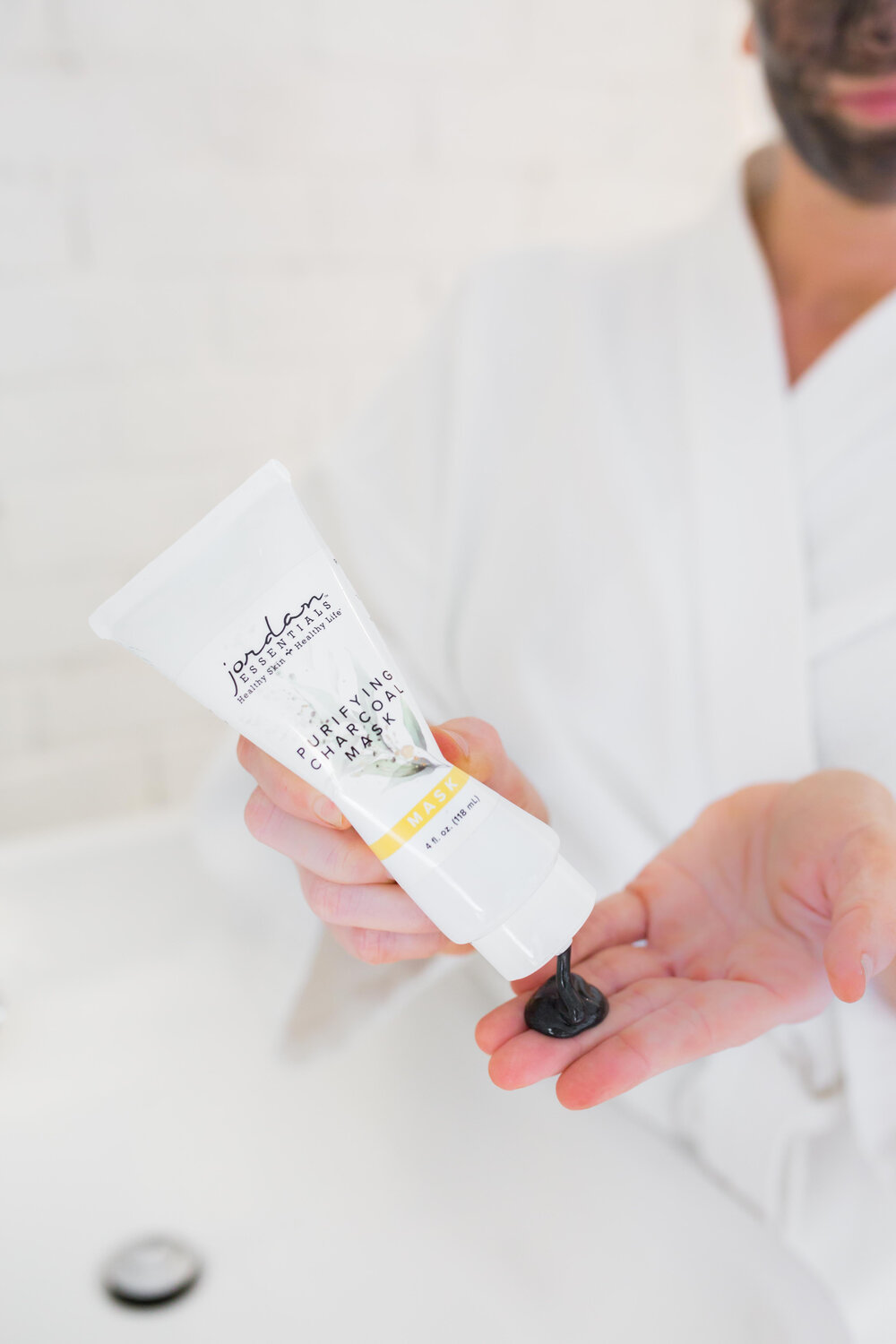 4. Say Om! This week, settle into savasana and take a break from doing anything at all. Whether you practice yoga or meditation, or you prefer to simply stretch and lie down, practice some form of gentle movement and follow it up with stillness in silence. This will do wonders for your mind and your body.
5. Turn up the music: When it comes to self-care, you may hear the same things over and over again, but we've got something new for you to try. Turn up your favorite song and just dance! Grab your loved one …or your furry friend, and get moving. You may feel silly at first, but dancing will invite laughter and will relieve so much stress and tension from your body and your mind.
What self-care practice are you doing this week to boost your wellbeing?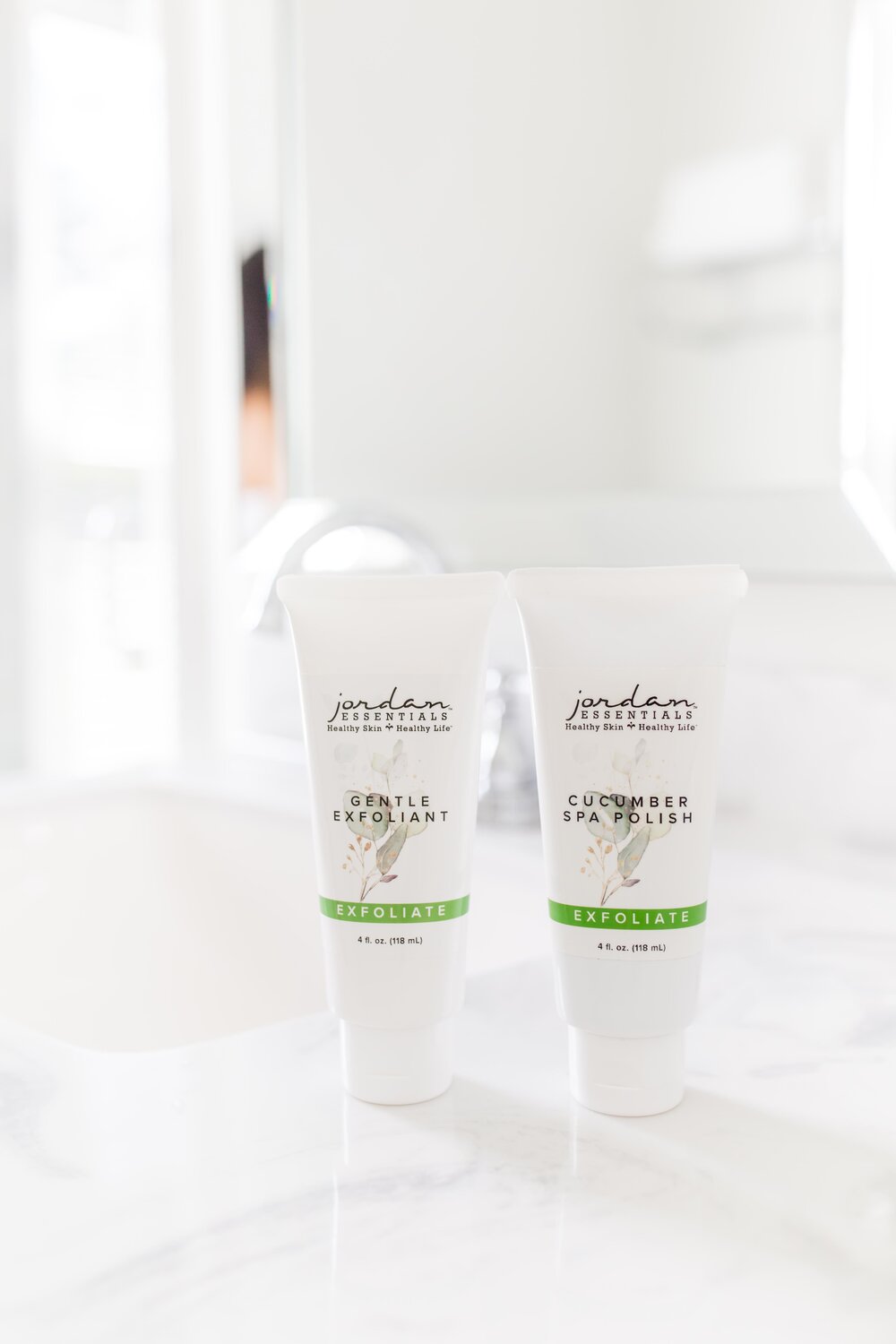 Who wants a fresh face for spring?! You can't see, but we're raising both hands!
Jordan Essentials has a face care line featuring natural, pure and fresh ingredients to give you that fresh face for spring!
Cucumber Spa Polish For The Ultimate Full Body & Face Treatment
The Cucumber Spa Polish has walnut shells which have a natural antimicrobial effect to them. Blackheads and breakouts will get a full treatment with weekly use of the spa polish. Go double duty, and use the product all over your body for a body polish after a long day.
Gentle Exfoliant For A Soft, Polished Pampering
Want and need a more gentle exfoliant? Jojoba beads are the answer! Our Gentle Exfoliant is perfect for a soft, polished pampering. While the exfoliant is primarily used on the face, you can also use this exfoliant on your hands and cuticles for a soft scrub massage. However you choose to use this product, just add a little water and massage gently for better circulation and to remove dead skin cells.
With all this talk about polishing and exfoliating the skin, we figured what better time than now to share some of our favorite skincare tips for a fresh face.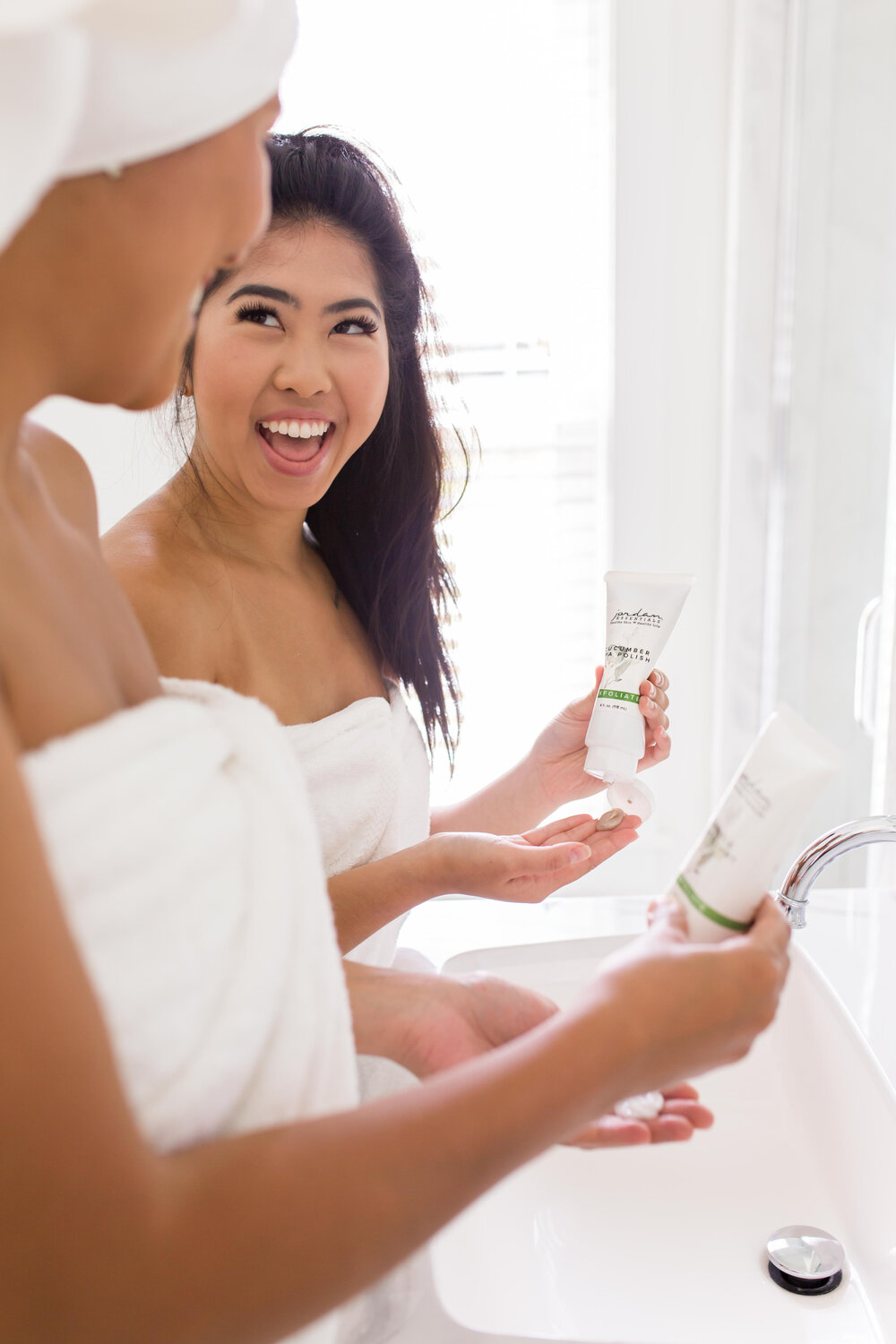 4 Skincare Questions Answered For A Fresh Face
Here are 4 of our favorite skincare tips to get a fresh face.
How often should you wash your face?
Cleanse your face twice a day. First, when you wake up, and second, before you go to bed. You may wonder why you need to wash your face in the morning when in the evening you're washing makeup off, but our faces accumulate sweat and oil overnight. It's just as important to wash your face in the morning as it is at night. Try our Gentle Foaming Cleanser!
What should your step-by-step skincare routine look like?
1. Cleanse your face twice daily with your gentle cleanser, warm water, and either your clean hands or try our Facial Brush. Work into a lather, taking your time, and then rinse well.
2. Once a week, exfoliate and/or polish after you wash your face. This process will renew the circulation in your face and slough off dead skin cells.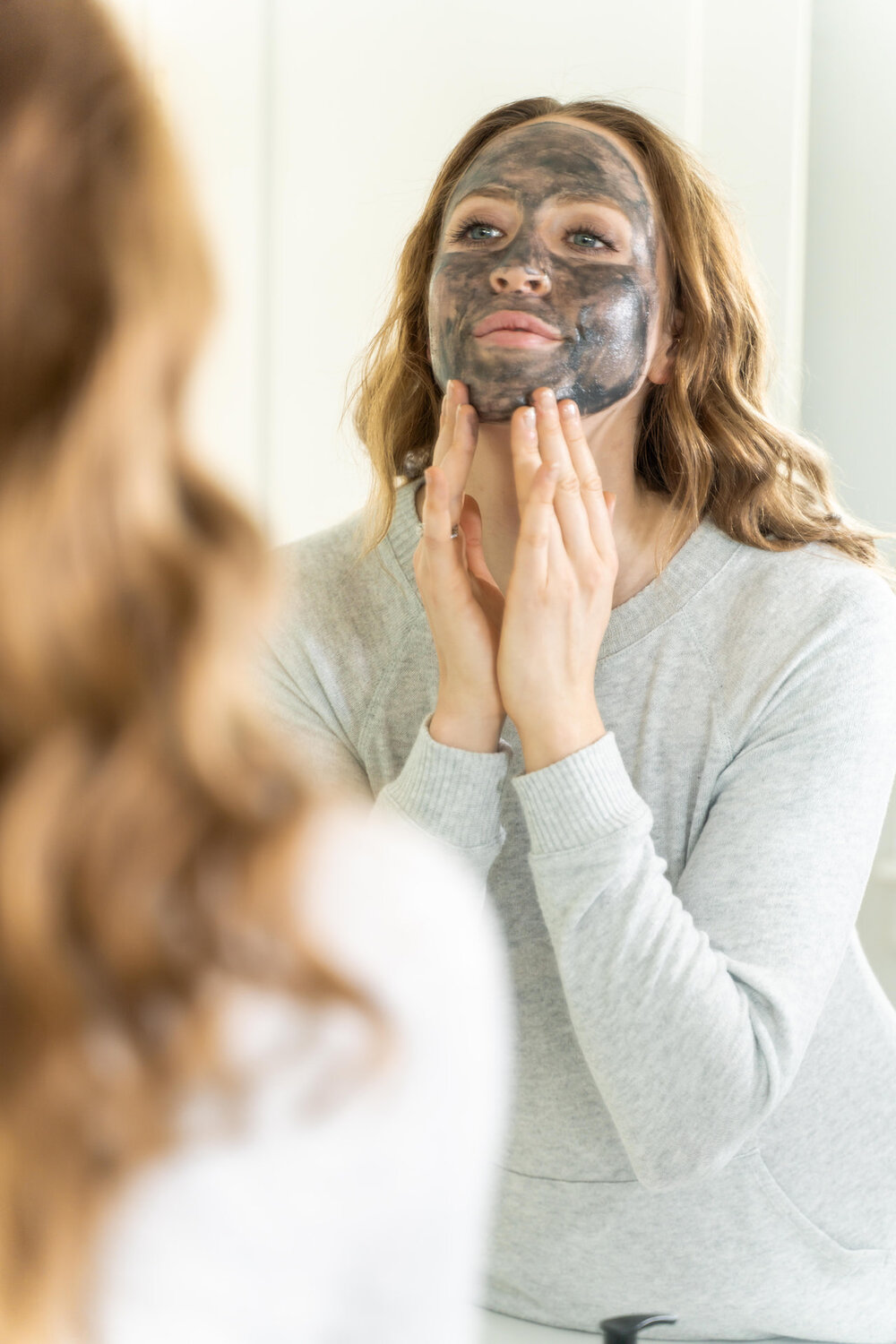 3. Once a week, treat any spots and apply a mask. Use either our Detoxifying Clay Mask, or our Purifying Charcoal Mask. Apply liberally to cleansed skin and leave the mask on for 10 minutes. Mist with toner to keep it moist, if needed. Finish with our Acne Support Gel if you have any blemishes that need treatment.
4. After cleansing, spritz your Toner Mist to tone and hydrate your skin. Allow to air dry.
5. Moisturize daily. Apply moisturizer every single day to keep your skin youthful, soft, and healthy. Use our Daily Moisturizer, Red Wine Moisturizer, or our Acne Support Moisturizer.
How do you use a polish & why?
A 'polish' is a type of exfoliant. It's a powerful exfoliating product that also cleanses, removing blackheads and reducing breakouts. In addition to cleansing and detoxing your face, the polish will also exfoliate your skin, clearing away dead skin cells.
What are the rules for exfoliating?
We recommend exfoliating once a week. If you have sensitive skin, be sure to use our Gentle Exfoliator. If you exfoliate too often you'll be doing more harm than good. We know exfoliating feels soooo yummy and good, but save it for that once a week, self-care spa night!
During the winter months, it's no secret that our skin suffers from dryness. One of the areas that suffers the most is our feet. Treat your feet this season with our December JJ Box! We've got everything you need to take care of your feet and keep them healthy during the cold, dry months.
Keep Your Feet Moisturized & Healthy
Don't neglect your feet during wintertime! Everything from cracked heels and calluses to dry skin and nails, can put a damper on the holiday season if your feet aren't healthy.
In order to keep your feet healthy, exfoliate your skin with an effective foot scrub. This will help heal cracked and calloused skin. Use a thick and moisturizing shea butter to soothe and smooth out your skin. In the shower, don't forget to cleanse your feet too!
Once you've taken care of your feet, make sure to maintain their healthy by wearing thick socks all winter long—avoid walking barefoot!
December JJ Box For Healthy Feet
This December, our biggest concern is making sure you treat yourself and indulge in a spa-like treatment for your feet. Treating your feet is the ultimate way to bring the luxury spa experience into your home!
Our Jordan Essentials JJ Box features our Peppermint Foot Scrub and Peppermint Shea Butter, along with an exfoliating mitt to use for scrubbing and moisturizing.
Shea butter is one of the best ingredients for moisturizing your feet because shea butter effectively repairs and heals dry skin, provides anti-inflammatory benefits, deeply moisturizes and strengthens skin, and it even relieves tired and achy muscles.
Try Dead Sea Salts For Ultimate Foot Health
Here at Jordan Essentials we love to soak in magnesium salts to soothe tired muscles and immerse ourselves in the ultimate relaxation experience. But what you may not know is that you don't have to take an entire bath just to heal your feet. Fill your tub or a bucket with warm water and dead sea salts for a rejuvenating and healing foot soak.
Magnesium salts are essential for rebooting tired feet, and they'll fuel your feet with nutrients like magnesium, potassium, and calcium. Try one of our seasonal scents like Peppermint.
Be sure to check out this month's Joyful Jordan Box to treat yourself this holiday season!
As we approach December, we're officially feeling the effects of the colder weather and dry air. Our skin is cracked, our lips are chapped, and we're in need of some serious pampering! On top of the harsh winter weather, we've got the added stress of the holiday season and a pandemic keeping us busy and dealing with complicated social distancing guidelines.
Ahhh, time to take a deep breath. Trust us when we say we've got you covered when it comes to winter self care. Our guide to winter self care features ways to boost your mood, relax your body and mind, pamper yourself, heal dry skin and lips, and find both comfort and joy during the winter months.
Use essential oils to boost your mood: Stress and holiday busyness aside, the winter weather has a tendency to bring down our moods, especially after Christmas and New Year's is over. One of the most effective ways to improve your mood is to use essential oils. You can add them to your unscented products, use them in cleaning products, add them to our hand sanitizer, or diffuse them in your house to lift your spirits. Try our Peace Herbal Blend Spray to spritz calming essential oils in every room of your house!
Bathe in dead sea salts to relax: Relax tired muscles and sleep better with our effective dead sea salt soaks. Whether you're experiencing stress, or you need to recover after working out, these bath salts will revive both your body and your mind. Magnesium, potassium, and calcium soak away aches, pains, and daily wear. We love the Peppermint soak for its festive scent, but you can also try our Unscented soak and add your own favorite essential oils!
Apply face masks for pampering: There is truly nothing better for pampering yourself than using face masks. Not only do face masks cleanse, purify, and revitalize your skin, but they are also soothing, relaxing, and indulgent. We love the Detoxifying Clay Mask for that much-needed deep cleanse that removes pollutants and toxins from your skin. You can even use this mask for a spot treatment for any blemishes that you have. Our Purifying Charcoal Mask is essential for cleansing your pores, purifying your skin, and gently exfoliating.
Use lip balm to heal chapped lips: If there's one thing you simply can't skimp on during winter months, it's taking care of your lips. Make sure you're using lip balm daily to take care of your dry, chapped lips. We love using the Lip Care Duo which includes a shea butter lip balm with cherry, and a lip exfoliant.
Find a daily moisturizer and body lotion for soothing dry skin: While you may already use a daily moisturizer for your face, make sure you're also using a body lotion every day to ensure you're combatting dry skin head to toe. For your face, try our luxurious Red Wine Deep Daily Moisturizer, and for your body, use one of our Shea Body Butters.
This week on our Weekly Spotlight Sale, we're featuring a Comfort and Joy Collection. This collection includes Skin Relief, which is a proprietary blend of nutrient rich aloe, green tea, seaweed, chamomile, and vitamin E. This thick body lotion soothes even the driest skin, and will bring you comfort! The collection also features our blended essential oil, Orange Lavender Essential Oil Blender Buddy, that will bring you joy this season. The Comfort and Joy Collection is only $20, so you'll save $4!
This holiday season, give the gift of natural, clean, and healthy beauty and skincare products! Every Jordan Essentials product is made in the USA and created to enhance your health, ensuring that you are using good-for-you ingredients and straying away from anything that is harmful for your skin and body.
Enjoy this Made In The USA Gifting Guide with some of our absolute favorite Jordan Essentials products! You'll find a gift for everyone on your list in this holiday guide!
Mini Holiday Wassail Diffuser: This limited edition diffuser features a delicious holiday scent that will warm any home and make it feel perfectly cozy this Christmas.
Pumpkin Face Mask: Our popular pumpkin face mask is back for this week only, because 'tis the season! Pumpkin is incredibly nourishing for the skin and full of beneficial vitamins that give a youthful glow. And, one can't help but fall in love with the smell of pumpkin in your beauty products!
Lavender Essential Oil Dropper: Lavender is no doubt one of the most popular and loved essential oils, and for good reason. Lavender is soothing, reduces stress, calms nerves, and brings peace and joy. Right now you can purchase two lavender essential oil droppers for the price of one!
Lip Care Duo: For perfectly plump and healthy lips, every girl needs the Lip Care Duo, which includes a lip exfoliant and shea cherry lip butter. Both feature vitamin E for optimal lip health.
The Fragrance of Hope: Hope is a beautiful holiday message to share with your loved ones this season. The new Fragrance of Hope is made with lemon, lavender, and rosemary essential oils, and it is meant to uplift your soul, relax, and restore during seasons of stress.
Lip Butter Lipstick – Remarkable Red: A gorgeous red lipstick is all you need to transform your look for the holidays. This remarkable red color is the perfect winter shade, and the lipstick is infused with vitamins, making it a nourishing lipstick that won't cause chapped lips!
Tinted Lip Gloss – Cranberry Crush: Pair this gift with one of our lip butter lipsticks, or gift it on its own. Not only is Cranberry Crush the ultimate holiday color, but it also happens to be full of healthy vitamins to nourish your lips too!
Super Serum Set: For the skincare obsessed, our Super Serum Set combats aging with a trio of effective and proven botanically-based serums. The three serums include Time Rewind Eye Gel, Age Defying Serum, and Tone & Firm Serum.
Green & Clean
:
There is not a single person who wouldn't welcome the gift of cleanliness this year! Our Green & Clean Serious Clean is free of harsh chemicals, but is still effective in warding off germs, bacteria, viruses, and pathogens. This is the ultimate household cleaner that everyone needs.
Dry Shampoo: Dry shampoo is basically a girl's best friend. It's essential for keeping your hair fresh and beautiful every single day. Give the gift of healthy dry shampoo made with natural, nourishing ingredients!
Premier Essential Mineral Makeup System
:
If you really want to splurge on that special girl in your life, our mineral makeup system features every essential makeup product a girl could possibly hope for. The kit includes a tinted moisturizer, mineral powder, pressed eyeshadows, eyeliner, primer, tinted lip gloss, lipstick, cheek tint, bronzer, mineral veil, and mascara.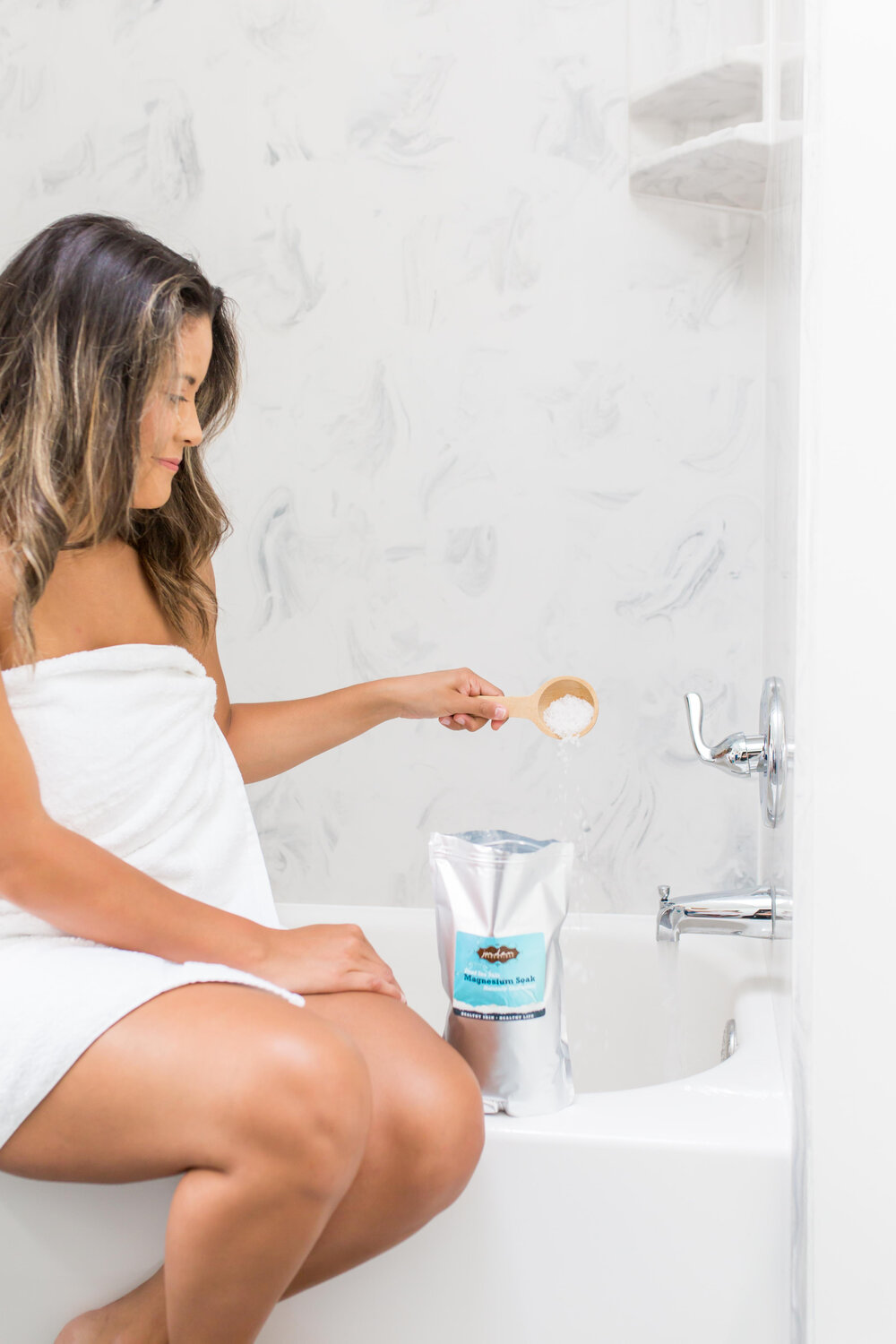 Magnesium Dead Sea Salt – Peppermint: What could possibly be more relaxing than soaking in your bath with the scent of soothing peppermint? Our Magnesium Dead Sea Salt in peppermint relaxes tired muscles, promotes deep sleep, and relieves aches and pains in the body.
Everyday Body Care Collection: Our Everyday Body Care Collection is the ultimate gift set for anyone obsessed with skincare. The kit includes a salt scrub, shea body butter, shower gel, foaming hand soap, and lotion bar. Choose between a wide variety of fragrance combinations!
Orange & Lavender Essential Oils Premier Baby System: For anyone with little ones or a baby on the way, this beautifully-scented and all natural kit is the perfect gift. It features a baby lotion bar, baby wash, and baby lotion—all with orange and lavender essential oils.
So what will you be gifting this season? Whatever you decide, you can't go wrong when it comes to sharing the gift of health and wellness.
We are so excited that the holiday season is finally here and that we have so many options to choose from for convenient online shopping. At Jordan Essentials we have numerous holiday gifts as well as our Joyful Jordan seasonal gift box.
We've broken it down so you have a simple and easy-to-use gift guide for every important person in your life! This gift guide includes some stocking stuffer ideas, gift ideas, and ideas on how to make sure every important person in your life feels special this holiday season.
Your Children
This has been a challenging year for everyone, but your kids are likely to have experienced the worst of it. With school and sports being different and having to spend part of the year isolated from friends, it's especially important to make sure your kids feel treated this year!
Teenage Son
Your son has likely been asking for something big on his Christmas wish list, and he's no doubt made it clear to you what he wants. In addition to gifting your son with what he wants most this year, it is also a great time of year for giving back to the community. One idea to make this season more special for you and your son is to volunteer together or pick a charity to donate to. While building his character, you're also teaching him what matters most during this time.
For stocking stuffers, your son will want something practical that he can actually use. Fill his stocking with our hand sanitizers! This hand sanitizer set comes with two essential oil blender buddies — Orange & Lavender, and Lemon & Peppermint.
Teenage Daughter
What are some of the experiences your daughter has missed the most this year? Think of ways to bring her favorite things into the home—think manicure sets, new hair products, clothes from her favorite store, or anything else she's been asking for. To make the holiday season more special for you and your daughter, find something the two of you can do together that doesn't involve material things. Take her to her favorite restaurant, buy tickets to the botanical gardens, go for a hike together, or do anything else that is special for you two.
She'll love having her stocking filled with beauty and skincare products! Gift her the gorgeous kabuki/blender brush duo and our mineral makeup products for natural ingredients that will enhance her beauty. She will also love this seasonally-scented cranberry lip balm to keep her lips smooth and healthy.
The Mothers In Your Life
Your mother and mother in law are two of the most dear people to you, and whether you have been able to see them in person or not this year, 'tis the season for showering them with love…and gifts, of course. When it comes to the mothers in your life, you can never go wrong with natural beauty products that will improve their skin and overall health.
Your Mother
For your mother, it's more about the thought and love behind your gifts than the gifts themselves. Take some time to write your mother a loving note, thanking her for being such an amazing mom.
But you'll also want to give her the November Joyful Jordan Box, which comes with a Pear Spice Bar Soap, Helio Spray, Peace Spray, Hope Shea Butter, and a $5 gift certificate so she can pick something out just for herself.
Mother In Law
Show your mother in law how much you care this holiday season by gifting her with a full essential oils set that comes with a durable case. This set includes the new duos, Peppermint & Lemon, and Lavender & Orange. Go the extra mile and include some unscented shea butters or dead sea salts that she can scent however she wants. Or on a personal card, include some of your favorite scent combos for her diffuser.
Other Important People On Your Gift List
For anyone else on your gift list this year, you can't go wrong with some of our holiday products. From gift tag lotion bars to pomegranate cider hand and body lotion, we've got something for everyone on your list!
Child's Teacher
We can all agree that teachers deserve the best of the best this year! Treat your teacher with our "Gift Tag" Holiday Happy Box. This box features a Pomegranate Cider Lotion Bar, a Soothing Magnesium Stick, and Pomegranate Bar Soap. Not to mention, the cute packaging is sure to give your child's teacher a big smile!
Best Friend
Let's be honest, we couldn't get through this year without our best friends. In addition to writing a note showing your immense gratitude for her support, gift her with our essential oil blender buddy duo—and remind her that she's your main buddy. Give her our hand sanitizer for her to use her essential oils with, and don't forget to mention that as long as she keeps her hands germ-free, the two of you can continue on with your socially distanced wine dates!
For more gift ideas, be sure to check out our entire holiday shop complete with seasonal (and healthy!) presents for everyone special in your life.