Warmer weather calls for more time spent outside! Here are 9 of our favorite ways to spend time outdoors with the family!
Build a Campfire– Chop the fire wood (or pick it up from the local store) and light the campfire! This is the perfect outdoor activity while the evening air is still a bit brisk. Pull up your folding chairs and breakout the marshmallows for a fun evening of star gazing and spooky campfire stories. Remember to always practice good fire safety habits.

Camp in the backyard– If you've built the bonfire, you might as well pitch the tent! Half the fun of camping for little ones is sleeping somewhere other than their plain ole' bedroom, so camping in the backyard will definitely be a crowd pleaser. Pop the popcorn, and then tell stories or stream a family movie because you've got WIFI in the backyard!

DIY Waterpark– Your local waterpark may be closed, but you can still bring the splashing water to the backyard! Hook up every old sprinkler you can find in the garage, fill up the water balloons, and lay out the slip-n-slide because it's time! Now, create a fun obstacle course of jumping through sprinklers, sliding down the slip-n-slide, and tossing water balloons to one another.

Go on a Walk– Grab the whole family and take a walk through the neighborhood. Play fun games like I Spy or Follow the Leader as you take in the scenery like never before.  Here are some other fun activities to play while walking:

Name That Tune– Sing a song until the other participants can guess the name! Hum or whistle for more of a challenge.

20 Questions– Choose an item spotted on your walk, and challenge the others to guess what it is by only asking 20 Yes or No questions.

Spelling Bee– Challenge one another to spell various words found on your walk.

Scavenger Hunt-Look behind beds and under couches to find those lost and forgotten toys, and then hide them in the backyard or around the neighborhood for older family members! Write out clues that will have them running all over in excitement searching for the next, and enjoy an afternoon of scavenging.

Wash the Cars– This activity is both fun and productive for all ages! Little ones will love splashing around with soap and the water hose, and if you have teenagers with cars, they will love to have a clean car!

Plant a Garden– This activity is also fun and productive! Pick up the necessary seeds, soil, and tools in the morning, and then spend the afternoon planting a garden of flowers, produce, or both!

Make Sidewalk Art– Head to the driveway and sidewalks around your home with a box of chalk and spend the afternoon sketching. You can use the chalk to draw pictures or create an interval training down the sidewalk with cues to do '10 Frog Leaps,' '10 Jumping Jacks' or any other exercise you can think of!

Build a Fort– Pull out old sheets, cardboard boxes, rope or whatever items your creativity leads you to use, and spend the day building a fort in the yard! Then, pack a lunch and head to your newly constructed fort to enjoy a picnic lunch with the family.
Remember to play safe and have fun, and always wear sunscreen and protect yourself from bugs while outdoors.
We created our May Joyful Jordan Box just for YOU and your family in time for the spring and summer seasons. We want you to enjoy spending time outdoors over the next few months while also protecting yourself from bugs!
Here's what you will receive!
Bug Away Spray: This powerful and natural spray works using Oil of Lemon Eucalyptus to repel mosquitoes and ticks. It is Deet free, Aloe enriched, and Alcohol free! You will receive a regular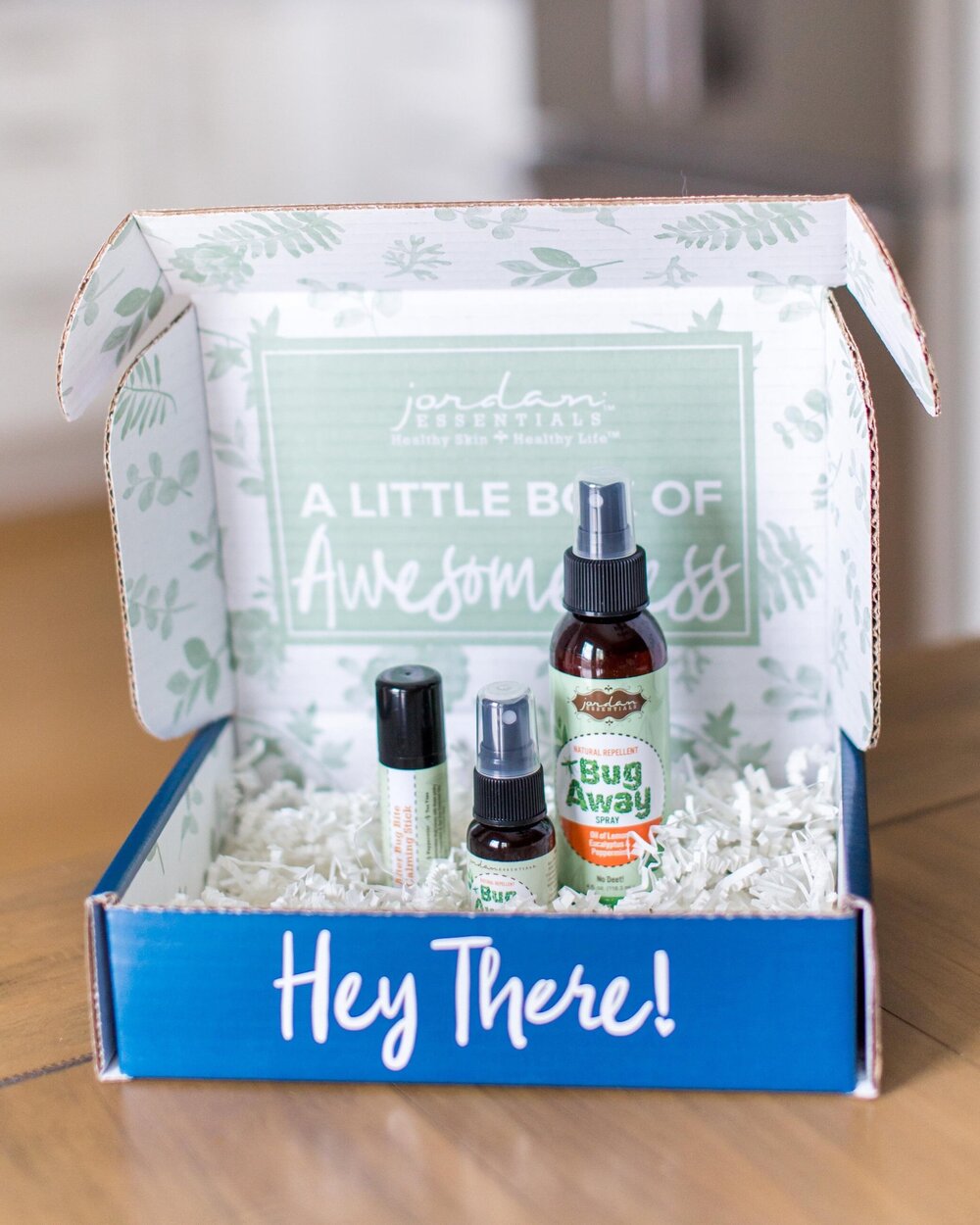 size bottle and travel size perfect to take on longer outdoor excursions. Our Bug Away Spray is safe to be applied directly to skin and clothing for children 3+, and it can be sprayed to strollers and the surroundings of children under 3.
After Bug Bite Calming Stick: While we wish bug bites were completely avoidable, sometimes they are not. Not to worry, our Calming Stick is packed with Lavender, Peppermint, and Tea Tree Essential Oils to soothe and leave your skin feeling cool and calm after pesky bug bites.
Order your May Joyful Jordan Box today, so you and your family are prepared for that extra time spent outside!