Let's talk masks! We're not talking Halloween costume masks, but the super relaxing kind of masks you might enjoy at the spa. While most people are dressing up this Halloween, we can't get enough of our therapeutic and beneficial face masks!
In celebration of our Limited Edition Pumpkin Mask, we've decided to round up the many benefits of our three Jordan Essentials masks.
Here is everything you need to know about our Pumpkin Face Mask, Detoxifying Clay Mask, and Purifying Charcoal Mask.
Pumpkin is truly a super fruit. It's loaded with more than 100 beneficial nutrients and works as a superfood for the skin. Pumpkin brightens, replenishes, and renews skin, and it just so happens to smell amazing! As a face mask, it brings deep exfoliation and sloughing effects to dry, dull skin.
Pumpkin contains Vitamins A, C and E as well as antioxidants to help fight sun damage and wrinkles. Its fruit enzymes naturally exfoliate dead skin cells, while zinc and potassium combat redness.
Spiced with cinnamon, ginger, and nutmeg, the mask takes advantage of cinnamon's antifungal and antibacterial properties, ginger's anti aging benefits, and nutmeg's ability to even out skin discoloration.
Our Pumpkin Face Mask is only available through the end of October, so be sure to stock up before winter arrives and your skin is in desperate need of a nourishing mask.
Our Detoxifying Clay Mask is great year-round due to its ability to remove pollutants from the skin and provide a deep clean. Made with Bentonite clay, this mask is suitable for all skin types and can even be used as a spot blemish treatment.
In addition to removing toxins and detoxifying the skin, Bentonite clay also treats oily skin and acne, and it removes any makeup clogged in the pores.
This clay mask also features safflower seed oil, apricot kernel oil, sweet almond oil, castor oil, sunflower oil, aloe, green tea, chamomile, and seaweed. The oils help moisturize the skin and nourish it with antioxidants. Aloe helps reduce the appearance of blemishes, as well as moisturize and heal the skin, while green tea is loaded with antioxidants that help with anti aging. Chamomile speeds up the healing process and seaweed hydrates the skin. The combination of moisturizing, hydrating, and healing make this a great mask for all seasons and all skin types.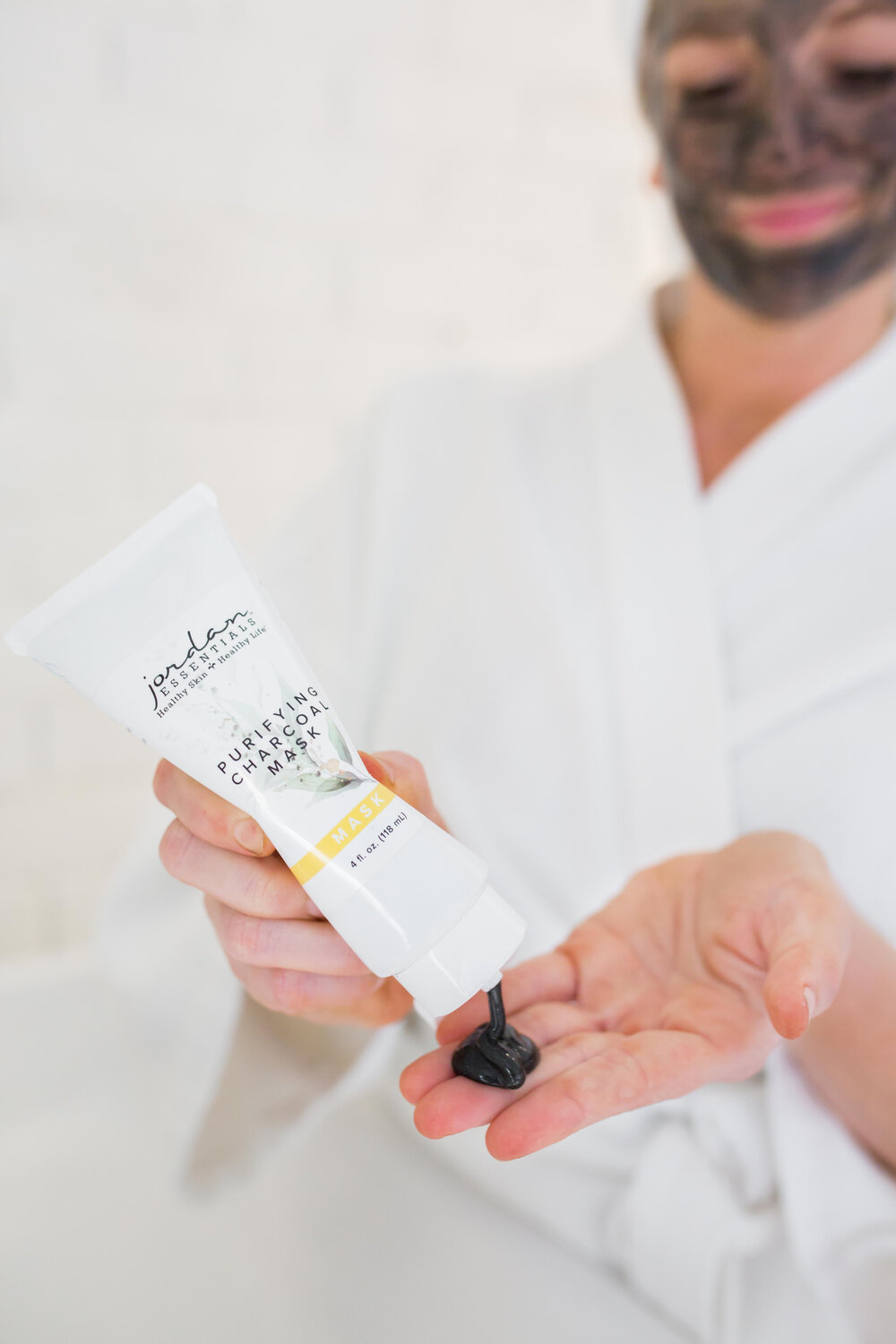 The Purifying Charcoal Mask is an essential for your beauty cabinet. If you're not using activated charcoal in your skincare routine yet, then you'll definitely want to learn about the many benefits of charcoal.
Charcoal removes impurities from the skin and leaves behind a healthier, clearer complexion. Using a charcoal face mask will provide you with brighter skin tone.
Due to its ability to remove bacteria and dead skin cells from the skin, charcoal is able to heal acne. The antibacterial properties of charcoal allow it to lift bacteria from the pores, purify the pores, and improve overall skin tone. Charcoal rids your skin of acne-causing elements like excess sebum, clogged pores, and dead skin buildup.
Got oily skin? Charcoal can even mattify oily skin by balancing the oil secretion on the skin. If you have oily, blemish-prone skin, a charcoal face mask is especially beneficial.
Jordan Essentials face masks are made from the highest quality and natural ingredients, so you know you are pampering your skin the healthy way.