We'd be hard-pressed to find anyone who doesn't want youthful, vibrant, glowing skin.  People are now turning to things like Botox and vampire facials to tap into the fountain of youth.  There are some crazy treatments out there for looking younger.  However, many people don't realize that Mother Nature has given us some powerful tools in her own backyard, so there's no need to keep taking extreme measures to look younger like watermelon! Really, watermelon!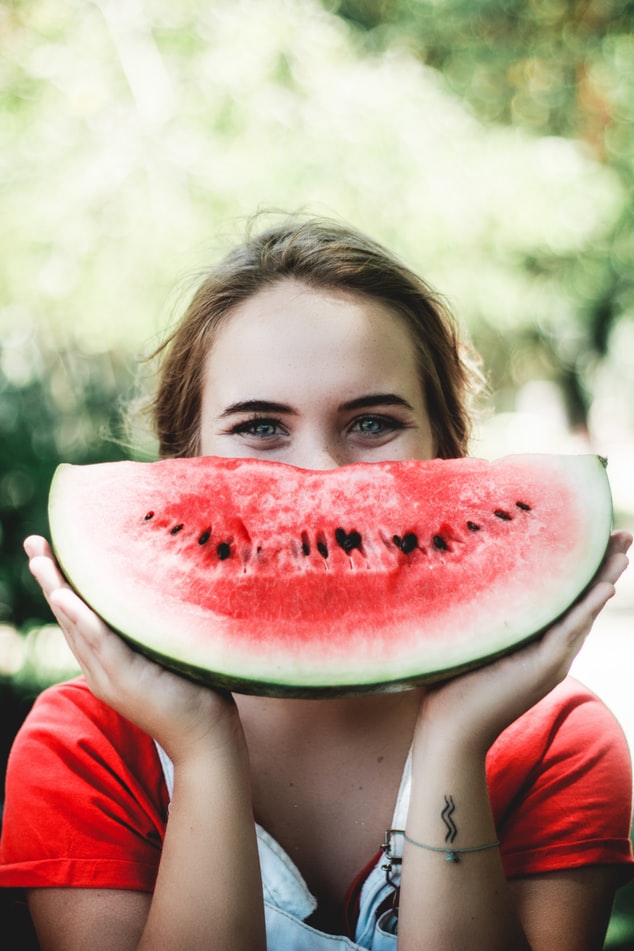 Before you go booking your first snail facial (yes, that's a REAL thing), check out this list of all-natural anti-aging skin ingredients:
 1.      Aloe Vera:   When you see this item, you probably think of sunburn, but did you know that in addition to soothing sun damage, aloe vera also stimulates collagen production, making it an ideal natural anti-wrinkle remedy?  It truly is a miracle plant, improving skin elasticity and keeping your skin bright and hydrated with its many vitamins and minerals.  It's natural moisturizing properties leave you wrinkle-free and looking youthful and truly refreshed.
2.      Jojoba Oil: Though it's referred to as an oil, it's actually a liquid wax.  What makes jojoba truly unique is how similar it is to the natural oils of our skin.  It moisturizes, absorbs quickly, and it's safe for all kinds of skin types.  Since it's not water-based, it doesn't absorb, making it a great long-lasting moisturizer.  Vitamins E and B, antioxidants, and minerals nourish and protect skin from the elements and stress damage.  Studies show that jojoba can actually increase skin's suppleness in a way that provides lasting results.  It also fades fine lines and wrinkles, and it can help repair sun damage, leaving you looking radiant.
3.      Cucumber:  When we mention cucumber and skincare in the same sentence, you're probably picturing someone with cucumber slices on their eyes, but to you know why they're actually used on skin?  Yes, they reduce swelling under the eyes, but they also prevent water retention and help repair skin damage from inflammation, eczema, and sunburn, due to natural ascorbic acid and caffeic acid within the cucumber plant.  They're so much more than a puffy eye remedy!
4.      Frankincense Essential Oil:  Add Frankincense Essential Oil to your moisturizer, body lotion, or pretty much any beauty product to start turning back time on your skin.  People have actually been using Frankincense Oil for years to lift, tone, tighten, and heal skin.  It prevents wrinkles, reduces the appearance of dark spots, scars, and burns, and hydrates dry or chapped skin.  It's also a natural astringent, making it great at regenerating skin cells and keeping existing cells healthy and strong, leaving you with a youthful, vibrant complexion.
5.      Green Tea:  Green tea is a great antioxidant and moisturizer.  It helps protect skin from free radical damage and keeps it looking radiant.  Its powerful antioxidant properties fight DNA damage from the sun that can actually prevent skin cancer.  Polyphenols in green tea make it an excellent anti-inflammatory that reduces redness, puffiness, and irritation.  Vitamins B2 and E help with skin firmness, hydration, softness, and promote new skin cell growth.  A cold green tea-soaked compress on the skin or some cool soaked green tea bags under the eyes can do wonders!
6.      Watermelon:  Not only is it a delicious summer treat, watermelon makes one heck of an addition to your skincare regimen!  The rinds have anti-inflammatory properties that can reduce redness, and even accelerate cell regeneration.  In Korea, watermelon rind is used to treat sunburn and rashes.  Watermelon is also loaded with Vitamin E, which helps even skin tone, reduce the appearance of wrinkles, and helps reverse free radical damage.  Vitamins A and C help revers sun, wind, and stress damage.  Its low acidity makes it safe for all kinds of complexions.  Even the seeds can help with irritation and boost collagen production, for firmer skin.  Crush up the rind, skin, or seeds for a cooling anti-aging mask!
7.      Grape Seed Oil:  Think of grape seed oil as the non-comedogenic version of coconut oil:  You get all the benefits without the clogged pores, making it great for people with sensitive skin.  Grape seed oil contains Vitamin E and moisturizing fatty acids that are great for lightening under-eye circles.  Its anti-inflammatory properties and high levels of linoleic acid make it a great moisturizer, and since it instantly dries, it can also be used under makeup.  It can also be used to lighten scars, speed up the healing process, lighten age spots, prevent sun damage, and tighten skin.
8.      Licorice Root Extract: While people have had a long-standing love/hate relationship with licorice candy, licorice root extract can be applied to skin for results you'll love (minus the aftertaste!).  Licorice root extract contains antioxidants glabridin and licochalcone A, which brighten damaged skin, block the enzyme that causes skin to darken from UV damage, lessen the appearance of scars and age spots, defend your skin against free radicals and skin disorders like rosacea and eczema.  All this will leave you with a healthy glow and just might make licorice root extract worth adding to your skincare regimen.
There you have it.  With all the latest bizarre trends in skincare in search of younger looking skin, we tend to forget that Mother Nature has provided plenty of great ingredients for turning back the clock on your complexion, no harmful chemicals required.
 If you're serious about restoring your skin to its youthful radiance, try any of our JE Age Defying Serums that contain all of the all-natural ingredients we discussed in this list!  Talk about an all-in-one anti-aging solution!  Reach out to your favorite JE Consultant today to learn more!
 Jordan Essentials does not claim to diagnose, prevent, treat, or cure anything.  Information provided is for educational and entertainment purposes only.  Contact your healthcare provider with specific concerns.  Not endorsed by the FDA.