'Tis the season of giving; a time when we thoughtfully show our friends and loved ones how much we care and appreciate them.  Finding that perfect gift can sometimes be challenging, however.  To keep the Christmas Spirit alive, and to reduce any holiday stress that may come from agonizing over finding that perfect gift, follow these Holiday Shopping tips:
Make a list, and check it twice.  Create a Holiday Shopping list so you know who you are shopping for, what you are giving them, and who you still need to find gifts for.  Don't forget the kids' teachers, pastors, Mailperson/UPS/FedEx drivers, Childcare, Neighbors, Co-workers, Christmas Party Hosts, and Pets.

Shop Early.  Don't wait until the last minute to get those gifts.  Earlier shopping means less stress, better selection, better prices, and plenty of time to get those gifts wrapped before your holiday parties.

Avoid the stores by shopping with your Jordan Essentials Consultant who can give you personalized service, options to try before you buy, and the chance to experience the fragrances and scents, all with the convenience of online browsing and secure checkout.  Plus, you have the satisfaction of knowing you supported a local business while getting quality products that are all Made in the USA!
Jordan Essentials makes it even easier by offering amazing choices from all price levels to please even the biggest Scrooge or Grinch on your list!  Looking for some inspiration?  Here are some of our top picks.  You can also check with your JE Consultant for recommendations and shopping help.
December Joyful Jordan Box: 
Every month, Jordan Essentials releases an exclusive bonus box that contains carefully selected products that often are not available in the regular catalog.  At only $20, and including 4 exclusive items, the December Joyful Jordan Box makes an awesome gift either as a whole or divided into separate gifts.  With the tantalizing theme of "Scents of the Season", your loved ones are sure to love this box throughout the year!
Joyful Jordan Perks Club: 
Why not give a gift that keeps on giving?  The Joyful Jordan Perks Club is a special gift that is sure to be treasured.  Our amazing Joyful Jordan Boxes can be mailed each month to your loved one for 3, 6, 9, or 12 months.  Everyone loves gifts that offer an experience; with happy memories and exciting anticipation.
Jordan Essentials Core 4 System:
We've put some of our best-selling and most popular products all in one amazing and economical bundle!  Give the gift of a Core 4 System including JE Magnesium Lotion, Skin Relief Lotion, a Magnesium Stick, and the versatile Lotion Bar!
Gift of Wellness:  
Only available for a limited time, give the gift of wellness this holiday season with the Holiday Wellness Collection.  This collection includes Resistance Blend Foaming Hand Wash, Resistance Blend Hand Sanitizer, and Resistance Blend Essential Oil Spray.  As the legend goes, Resistance Blend is a combination of pure, therapeutic-grade essential oils from a several hundred year old recipe that successfully helped ward off the plague.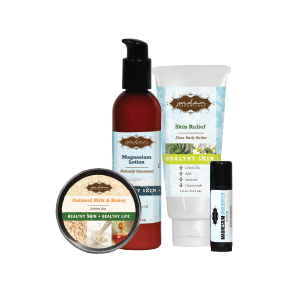 Gift of Love:  
Men and women, young and old, go crazy over the Jordan Essentials' Gift of Love Collection!  With richly delightful aromas of chocolate, mint, and vanilla that are almost guaranteed to put a smile on the face of your loved one.  This collection includes a Limited Edition Chocolate Mint Lotion Bar, Madagascar Vanilla Hand & Body Lotion, and luscious Chocolate Lip Butter.  Buy individually or get the whole collection and save!
Gift of Peace & Pampering:  
Christmas is a time of peace and goodwill toward men everywhere.  Spread some peace through Jordan Essentials luxurious Peace & Pampering Collection.  Included in this bundle is Lavender Essential Oil Spray, with its light floral aroma that relaxes the senses.  Also found in this collection is a soothing Lavender Herb Eye Pillow.  This soft and soothing eye pillow contains flax seeds that can be heated or cooled to customize the pampering experience.  To round out this collection, we also included a Limited Edition Red Wine Deep Daily Moisturizer with resveratrol for a deep moisturizing experience.
Gift of Beauty:  
To please those glamour girls on your list who love healthy beauty, give the gift of Jordan Essentials Beauty Collection!  The rich colors of Plum Fun Tinted Lip Gloss, Wild Plum Lip Butter Lipstick, and Smokin' Plum Pressed Mineral Eyeshadow are sure to make even the Sugar Plum Fairy dance with joy!
Jordan Essentials Men's Collection:  
And remember that Jordan Essentials is not just for the gals on your list, either.  Guys get dry skin, need magnesium, like cleansing soaps and shampoos, and need deodorant too!  Most products are also available in unscented varieties or select the Bergamot & Sandalwood fragrance.
Jordan Essentials Starter Kit:  
December is the perfect time to start your own Jordan Essentials Business.  Give yourself the gift of a Jordan Essentials Business and ADD to your bank account rather than seeing it dwindle away this holiday season.  Why not shop from yourself for your loved ones, and then help your friends shop too?  Jordan Essentials is fun, rewarding, educational, supportive, and potentially very lucrative.  Earn commissions, win prizes, get discounted products for yourself, spread the message of healthy skin/healthy life, and enjoy the community of "Jordies."
We can't wait to welcome you to the family.  Happy Holidays!